The fears have been stoked by reports that two Uzbek asylum seekers who have been missing in Kyrgyzstan since last week are being detained in the eastern Uzbek city of Andijon. There are reportedly some 500 Andijon refugees still in Kyrgyzstan, according to human rights activists.
Missing Men
Valijon Bobojonov and Saidullo Shokirov fled their native Andijon after the May 2005 unrest and were subsequently granted asylum-seeker status.
Bobojonov spoke to RFE/RL last month from the southern Kyrgyz city of Osh, sharing his hopes for being resettled in Europe with the assistance of the UN refugee agency (UNHCR).
"Since the five were handed over, there is fear and hopelessness among refugees in Osh," one activist said.
"I will get [refugee] status in a few days," Bobojonov said. "It's been a year. I want to go to Germany. Some women from my family -- my mother and my sisters -- are there. My family is [in Andijon]. Therefore I am trying to get [to Germany]."
Now there are reports that Bobojonov -- who is 40 years old -- and Saidullo Shokirov, 38, have been returned to Uzbekistan and are being held in Andijon.
They have been missing since August 16 and August 17, respectively.
A friend of theirs from Osh, who spoke to RFE/RL on condition of anonymity, says he saw the two men before they disappeared.
"Valijon disappeared first," the man said. "He was taken from his home. The next day, Saidullo was taken, also from his home. Since then, they have been missing. Nobody knows anything. Who took them and where? No one knows. We met and talked a day earlier. We went to the [immigration department] and [the human rights organization] Adilet. They told us that everything [regarding the refugee status] would be solved by 6 or 7 September. The following day, Valijon was taken around 4 p.m."
Are They In Uzbekistan?
It is not clear who took the two men and whether they were deported to Uzbekistan. But the Adilet (Justice) human rights organization says they were taken by men who said they were from the Kyrgyz Interior Ministry and are being held in Andijon.
"They are in a detention cell in Andijon," said Adilet Chairwoman Cholpon Jakupova. "This information was given to us by one of their friends, and he was called by [one detainee's] wife."
Jakupova did not say whether it was Bobojonov's or Shokirov's wife who passed the information about their detention.
Izatulla Rakhmatullaev, the head of the Osh-based nongovernmental organization Zakon i Poryadok (Law and Order), says he has been in contact with Bobojonov and Shokirov since they came to Osh more than a year ago. He tells RFE/RL that he inquired about the two asylum seekers immediately after hearing they were missing.
"I knew them both," Rakhmatullaev said. "Last year when Saidullo Shokirov came to me, I took him to UNHCR and registered him there. Then I helped him find shelter at my friends' home. When we heard that they had been handed over to Uzbekistan, we went to the UNHCR [and] to the immigration department. But they also said they did not know anything."
It is also unclear what charges, if any, have been brought against the men. Rakhmatullaev says Shokirov was not on the Uzbek authorities' list of wanted people.
Kyrgyzstan Criticized For Cooperation
There has thus far been no comment from Kyrgyz authorities. Jakupova says law enforcement officials pledged that an investigation will be conducted.
Kyrgyz human rights activists have stepped up criticism of the country's authorities for cooperating with Uzbek security services.
On August 9, Kyrgyzstan deported five Uzbek nationals -- including four UN refugees and one asylum seeker -- who were wanted in their home country for the alleged participation in the 2005 Andijon uprising. The move has drawn harsh criticism from the international community.
Tursunbek Akun, who chairs the Human Rights Commission under Kyrgyz President Kurmanbek Bakiev, said Bobojonov and Shokirov should be found "quickly."
"If they aren't found, there will be a big scandal," Akun said. "This will severely damage Kyrgyzstan's image. Therefore our law enforcement forces have to find them quickly."
Rakhmatullaev says numerous Uzbeks hiding in southern Kyrgyzstan also fear being forcibly returned.
'Fear And Hopelessness'
"Since the five were handed over, there is fear and hopelessness among refugees in Osh," Rakhmatullaev said. "They are leaving places where they have lived and going elsewhere. The other day, we counted [Uzbek refugees] here. There are 500 people with and without any status [in Osh]."
Rakhmatullaev expresses concern over the returnees' fate.
"Saidullo Shokirov is a disabled man," he said. "He has had surgery on his abdomen. His health is very bad. I am very worried about him. Wherever he is held, I wish he would be treated with compassion."
Western diplomats and international organizations, including the UN, have accused Uzbek authorities of regularly using torture against detainees.
Andijon Refugees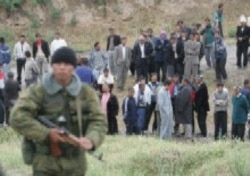 Uzbek refugees in Kyrgyzstan on May 19, 2005 (epa)


NO PLACE TO GO: More than 400 Uzbeks who fled in panic in the hours and days after troops opened fire on demonstrators in Andijon one year ago have been granted political asylum outside Central Asia. In limbo for weeks in Kyrgyzstan as they and the world tried to come to grips with the bloody events of May 12 and 13, they feared for their lives and the lives of family members as the official crackdown continued.... (more)
RELATED ARTICLES
Andijon Refugees In Romania Have Escaped Violence, But Not Heartache
Refugees In Romania Await Decision On Destination
Refugees Want To Return Only If Regime Changes


THE COMPLETE STORY: A dedicated webpage bringing together all of RFE/RL's coverage of the events in Andijon, Uzbekistan, in May 2005 and their continuing repercussions.
CHRONOLOGY
For an annotated timeline of the Andijon events and their repercussions, click here.