The two monitors -- Enira Branitskaya and Alyaksandr Shalayka -- were among four election monitors from the U.S.-financed Partnership organization who were arrested in February in the run-up to the March 19 presidential election. They were released on August 21.
The two other monitors -- Mikalay Astreyka and Tsimafey Dranchuk, who have been sentenced to one and two years in prison, respectively -- remain jailed.
President Alyaksandr Lukashenka won a third term in the election, which was condemned by Western countries as unfree and unfair.
(AFP)
Belarus And Poland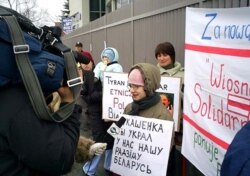 An anti-Lukashenka demonstration in Warsaw on February 22 (RFE/RL)

LOOKING OVER THE FENCE: In the 12 months leading up to today's presidential elections, Polish citizens have taken a strong interest in the fate of their neighbors, the Belarusians. Some say this is because the two countries are geographically linked and it is in Poland's best interest to be surrounded by democratic friends. Others say it is because of Poland's own strong history fighting against oppression. Regardless of the reason, one thing is indisputable: Poland is almost as invested in the results of the March 19 election as Belarus is....(more)
Related stories:
Belarus: Mixed Feelings About Poland's Interest
Belarus: EU-Funded Broadcasts Set To Begin
On 25th Anniversary, Walesa Says Solidarity 'Broke Bear's Teeth'
Warsaw Seems To Be Losing Duel With Minsk Over Ethnic Organization


Click on the image to view a dedicated page with news, analysis, and background information about the Belarusian presidential ballot.
MEET THE CANDIDATES: Read brief biographies of the four candidates in the March 19 election.


Click on the image to view RFE/RL's coverage of the election campaign in Belarusian and to listen to RFE/RL's Belarus Service.