Tito's Widow Granted State Pension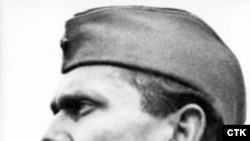 Yugoslav President Josip Broz Tito (CTK) August 22, 2006 -- The widow of the former Yugoslav leader Josip Broz Tito has been granted a state pension.
Jovanka Broz, who is 82, has lived in Belgrade in a government-owned house under a leaky roof and without heating since Tito's death in 1980.
She was receiving the equivalent of $155 month in state social welfare.
The Serbian government says it has now granted her a state pension worth $1,420 a month.
(AP)