Ari Larijani, who is also secretary of Iran's Supreme National Security Council, was quoted as saying after he delivered the response on August 22 that such negotiations could begin within 24 hours.
Details of Iran's written response have not been released.
The White House said it had received a copy of the document but deferred comment. Deputy Press Secretary Dana Perino said President George W. Bush had not seen the response yet.
Larijani delivered his government's answer to envoys in Tehran representing five of the countries who signed on to the incentives package -- along with the Swiss charge d'affaires, who represents U.S. interests in Tehran. The offer came from five permanent members of the UN Security Council (China, France, Russia, the United Kingdom, and the United States) plus Germany.
Iran's ISNA news agency quoted Larijani as saying, "Although there is no justification for the other parties' illegal move to refer Iran's case to the [UN] Security Council,... the answer was prepared...to pave the way for fair talks."
Not 'Yes' Or 'No'
International diplomatic sources had suggested that they expected Iran to be "ambiguous" in its response.
Most observers expected Iranian officials to follow through on recent statements rejecting the demand that they halt uranium enrichment, a central feature of the international effort.

The UN Security Council approved a resolution in late July that set a date of August 31 for Iran to stop its enrichment or face possible economic and diplomatic sanctions. Officials in Tehran have rejected that deadline as illegitimate.

Beijing Opposes Sanctions

Just hours before Iran delivered its response on August 22, China's special envoy to the Middle East, Sun Bigan, said his country opposes sanctions against Iran. Sun called for a peaceful settlement of Tehran's nuclear dispute with the world community.

Sun warned that "resorting to force and sanctions cannot fully solve these problems." He also said sanctions could create tensions "detrimental not only to the region, but also to ourselves."
Russia and China have resisted U.S.-led efforts impose sanctions on a recalcitrant Iran. But Moscow and Beijing publicly urged Tehran to accept the incentives offer.

Rejecting 'Arrogance'

Iranian Supreme Leader Ayatollah Ali Khamenei was quoted by state television as saying on August 21 that "arrogant powers, led by America" fear Islamic countries' progress and are trying to block the country's scientific and technological development. "[Iran] has made its decision and, as far as the nuclear issue and other issues it is faced with are concerned, it will continue its path powerfully, with resilience and by relying on devoted efforts and God. And it will receive the sweet fruits of its efforts."
Khamenei was quoted as chiding U.S. President George W. Bush on August 22 for "impudent" statements. He accused Bush of speaking "as if he was the master and the owner of Lebanon, Palestine, Iraq, Syria, Iran, and other Muslim states," according to Iranian news agencies.

Iranian officials have maintained a firm line on the enrichment issue, even as their statements hinted that they might negotiate other elements of the nuclear dispute.

"Iran's response to the package is a comprehensive reply that can open the way for resumption of talks for a final agreement," AP quoted Mohammed Saeedi, deputy head of the Atomic Energy Organization of Iran, as saying in comments published today.
The United States and other Western governments have accused Iran of covertly trying to develop nuclear weapons, a charge that Iranian officials have consistently rejected.
"Confidence building is a two-way road, [and] trust is always a two-way road," Reuters quoted Foreign Minister Manouchehr Mottaki as saying in response to questions after a lecture in Pretoria, South Africa. "Based on negotiations, there is a possibility for a comprehensive solution to this matter."
IAEA Concerns

The International Atomic Energy Agency (IAEA) has criticized Iran for its failure to disclose the nature of some of its nuclear activities. The IAEA also warned that Iran has failed to provide convincing evidence that its nuclear program is purely peaceful.
"The Guardian" newspaper quoted Western diplomats today as saying IAEA inspectors had been denied access to parts of a controversial uranium-enrichment center at Natanz.
The paper quoted diplomatic sources and other officials as downplaying the refusal, saying Iran had no obligation at this point to allow inspections of an underground facility that is under construction and is expected to contain an industrial-scale enrichment facility. They stressed that the denial of access did not appear to represent a violation of Iran's international obligations under the Nuclear Non-Proliferation Treaty (NPT), whose compliance the IAEA monitors, according to "The Guardian."
(compiled from agency reports)
What Would Sanctions Mean?
What Would Sanctions Mean?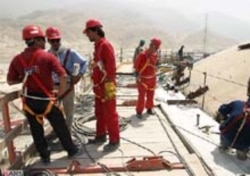 Economic sanctions could further undermine Iran's already shaky economy (Fars)


MOVING TOWARD SANCTIONS: If the United Nations Security Council imposes sanctions on Iran, domestic support for Iranian President Mahmud Ahmadinejad will wane, according to ALEX VATANKA, Eurasia editor for Jane's Information Group.
Vatanka told a February 24 RFE/RL briefing that "economic sanctions will hurt the average Iranian" and, consequently, many "will blame the ruling clerics" for making life difficult and "impairing the country's long term development."
Vatanka said sanctions would be a serious challenge to the Iranian government. If harsh economic sanctions were imposed, Iran's poorest population will be hurt the hardest -- and might react "as they did in the 1970s and protest in the streets." Sanctions on travel, Vatanka said, would hurt a many Iranians because "Iran is a nation of small traders" who depend on the ability to travel to earn an income. According to Vatanka, unemployment in Iran is estimated at 30 percent, "so small trading is essential to survival." Although current U.S. sanctions "haven't worked," he said, "Iranians fear an oil embargo." He stressed that "oil revenues are a major part of the economy, so it is critical to look at this sector."
Should negotiations with the European Union and the UN fail, Vatanka believes that Iran would follow a "North Korea model," since Ahmadinejad's base of support among the "Islamist militias" has been "urging withdrawal from the NPT [Nuclear Non-Proliferation Treaty]." The Iranian government's "tactic" so far, Vatanka said, is governed by the belief that "by shouting the loudest, you'll get concessions [from the West]."
LISTEN
Listen to the complete panel discussion (about 60 minutes):

Real Audio
Windows Media

THE COMPLETE STORY: RFE/RL's coverage of the controversy surrounding Iran's nuclear program.
CHRONOLOGY
An annotated timeline of Iran's nuclear program.