China Angered By Dalai Lama's Visit To Mongolia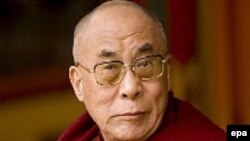 The Dalai Lama, the exiled spiritual leader of Tibet (file photo) (epa) August 23, 2006 -- Thousands of people have flocked to the Mongolian capital, Ulan Bator, to welcome the Dalai Lama.
A large crowd cheered as the Tibetan Buddhist leader smiled and waved to them in the grounds of the country's largest monastery.
The exiled leader's trip has, however, angered China. Beijing said it opposed any country giving the Dalai Lama a venue for what it called his political activities.
(Reuters, AFP)