PRAGUE, August 25, 2006 (RFE/RL) -- There have been different views on Iran's role in the war between Hizballah and Israel.
Some observers suggested that Iran had given Hizballah orders to attack and kidnap Israeli soldiers in order to divert the world's attention from Iran's controversial nuclear program. Others said the conflict was the result of a miscalculation by Hizballah -- which likely didn't expect such a fierce reaction from Israel.
The Chatham House said in a report on August 23 that Iran is the main beneficiary of the war on terror in the Middle East.
Iran Deemed Winner
Many blamed Iran for the conflict because of reports that they were helping Hizballah financially and supplying it with weapons and missiles. Iran says it gives Hizballah -- which it helped create in the early 1980s -- only spiritual and moral support.
But most analysts agree that the 34-day war has strengthened Iran and boosted its regional standing.
Dr. Hermidas Bavand, a veteran diplomat, teaches international law in Tehran. He tells RFE/RL that Iran has emerged from the conflict politically and psychologically more powerful.
"Some said it was an indirect confrontation between Iran and the United States and also Israel," he said. "On one hand the invincibility of Israel is now questioned, and the huge and systematic destruction [it levied upon Lebanon] tarnished Israel's image in the world, while U.S. support [for Israel] to a certain point damaged [Washington]. Hizballah is among the levers used or influenced by Iran; if Israel takes any action against Iran well, then, Iran has this lever on the border with Israel."
Iran Praises Hizballah
Although there was no clear winner in the fighting between Israel and Hizballah, Washington said Hizballah has been defeated. Iranian officials, however, painted a different picture and said that Hizballah has turned the United States' and Israel's days into a "black night."
Dr. George Joffe is a Middle East expert with the Centre of International Studies at Cambridge University. He agrees that Iran has gained from Hizballah's capability to stand up and resist Israel's great military might.
He adds that Iran has benefited in other ways, too.
"It has demonstrated that it is far more in tune with sentiments inside the Middle East over the core problem of the region, namely the Arab-Israeli dispute and the treatment of the Palestinians."
Joffe says the Lebanese conflict has also given Iran more leverage in the nuclear dispute.
"On the one hand it knows that the United States has been caught off balance -- as has Europe -- by current events and therefore it can resist the pressure that they were bringing to bear but it also feels its own strength inside the region and is therefore prepared to make a stand on this issue even though there might be many other ways where it would find itself in conflict with Western attitudes and interests."
Warning From Tehran
Iranian officials have warned that any United Nations Security Council actions against Tehran because of its nuclear program will lead to more tension in the region.
Bavand adds that although Iran has in the short term gained from the conflict, the situation could change in the future.
"If the cease-fire continues and there won't be any war anymore, then in the long-term the situation would be different; the Lebanese society would not tolerate another similar crisis, therefore it would try to resolve factors that led to the crisis," he said. "In other words, Hizballah would have to be [disarm and expand] its political context or it could be absorbed into the Lebanese army."
Dr. Joffe argues that the sustainability of Iran's current powerful position will also depend on other countries in the region.
"There are, of course, the long-standing antagonisms between Iran and the Arab world which are partly cultural in origin and partly political," Joffe said. "There is the antagonism, too, of moderate states having such a dominant position, particularly of Egypt, Jordan, and Saudi Arabia."
U.S. Policies Helping Iran?
Some observers say U.S. policies have directly contributed to Iran's current position.
The Chatham House said in a report on August 23 that Iran is the main beneficiary of the war on terror in the Middle East.
The report says the United States and its allies have eliminated two of Iran's regional rival governments -- the Taliban in Afghanistan and Saddam Hussein's regime in Iraq -- but failed to replace either with stable alternatives. As a result, it says, Iran feels it's able to resist outside pressure on key issues such as its nuclear program.
Ali Ansari, one of the authors of the report and an expert on Iran, told Radio Farda that the U.S. needs to reassess its policies toward the Islamic Republic.
"The U.S. should think about a new policy and it should know its goals as regards Iran," he said. "Unfortunately, now, when you talks with Americans their aim is not clear; some talk about regime change or they say our differences on the nuclear issue should be resolved through talks and negotiations."
The Middle East Crisis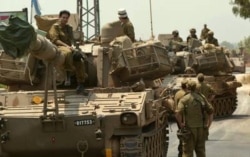 Israeli tanks poised on the border with Lebanon on August 2 (epa)
CLASH OF ARMS:
Since mid-July, Israel has been battling Hizballah guerrillas in southern Lebanon and carrying out punishing air strikes throughout the country. International efforts to broker a cease-fire have met with one obstacle after another, as civilian casualties mount and a humanitarian crisis unfolds. Since Hizballah is closely supported by Syria and Iran, the conflict threatens constantly to develop into a regional conflagration....
(more)
RELATED ARTICLES
Israel Steps Up Assault Despite Hizballah Warning
'We The People Are The Big Losers'
Iranians 'Volunteer' To Help Hizballah
Lebanon Cancels Talks After Bloody Qana Attack
The World Searches For An Elusive Solution
Analyst Says 'U.S. Needs To Talk To Syria, Iran'