The plant is designed to supply a heavy-water nuclear reactor. Iran says the reactor will be used for electricity, but it could also produce plutonium used in nuclear weapons.
It comes at the same time that Iran is working on uranium enrichment, which critics say could also eventually lead to weapon production.
Ahmadinejad said at the heavy-water inauguration ceremony that Iran would not give up its right to nuclear technology. He said Iran was not a threat "to anybody, not even to the Zionist regime."
Meanwhile, Iran's top nuclear negotiator reiterated today that his country is determined to produce its own nuclear fuel. Supreme National Security Council Secretary Ali Larijani said that production of nuclear fuel is one of Iran's strategic objectives.
Nuclear Work Popular At Home
Iran's tough position seems to have support at home. Reuters Television today asked inhabitants of Tehran what they thought about the nuclear program.
"Having nuclear energy is not only Iran's legitimate right but every country should have that," one man said. "We have accomplished great success because of our dear President [Ahmadinejad] and are very happy of this accomplishment."
Another man said the heavy-water reactor at Arak is an achievement for the Iranians. "The opening of the Arak heavy-water [plant] is a great achievement and we are capable of achieving other great accomplishments also," he said. "Furthermore, we are not scared of any sanctions coming from the Western world and we will continue."
West Remains Suspicious
The UN Security Council has demanded Iran meet an August 31 deadline to halt uranium enrichment. If Iran is deemed to have failed to comply, the Security Council will consider adopting "appropriate measures" under Article 41 of Chapter 7 of the UN Charter, which sets out enforcement powers.
Western nations accuse Tehran of seeking to master technology to produce nuclear weapons. Iran, the world's fourth-largest oil exporter, insists it only wants to produce electricity. It faces possible sanctions if it does not heed the UN deadline, but divisions among world powers over how to handle Iran could delay any action.
It allows the Iranian establishment to be defiant. On August 25, a midlevel cleric, Ahmad Khatami, said during a Friday Prayer ceremony that the West ought to be cautious in the way it addresses Iran. He urged other nations not to be "tools" in American hands.
"The world has understood that the UN Security Council is a tool in the hands of America and it has no free will of its own," he said. "It acts like a slave to America."
Some say that Iran's position is based on a premise that two of the council's permanent members, Russia and China, will oppose moving toward sanctions. Iranian politicians also seem to be convinced that that the United States is too involved in Iraq and Afghanistan to be willing to engage in another conflict in the region.
Talking Technical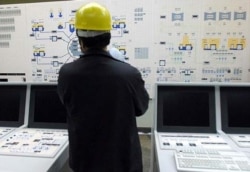 A control panel at the Bushehr nuclear power plant (Fars)

CASCADES AND CENTRIFUGES: Experts and pundits alike continue to debate the goals and status of Iran's nuclear program. It remains unclear whether the program is, as Tehran insists, a purely peaceful enegy project or, as the United States claims, part of an effort to acquire nuclear weapons.
On June 7, 2006, RFE/RL correspondent Charles Recknagel spoke with nuclear expert Shannon Kile of the Stockholm International Peace Research Institute in Sweden to help sort through some of the technical issues involved. "[Natanz] will be quite a large plant," Kile said. "There will be about 50,000 centrifuges and how much enriched uranium that can produce [is] hard to say because the efficiency of the centrifuges is not really known yet. But it would clearly be enough to be able to produce enough [highly-enriched uranium] for a nuclear weapon in fairly short order, if that's the route that they chose to go...." (more)
RELATED ARTICLES
Tehran Says It Is Working On Advanced Nuclear Fusion
Would Light-Water Reactor Suit Tehran's Needs?
Satellite Images Raise Questions About Iran's Nuclear Program
Centrifuges And Political Spin?
How Close Is Iran To Getting Nuclear Bomb?
Iran: The Worst-Case Scenarios

THE COMPLETE STORY: RFE/RL's complete coverage of controversy surrounding Iran's nuclear program.