At a news conference in Beirut today after a meeting with the Lebanese cabinet, Annan called on Israel to lift its blockade of Lebanon.
"I am urging my Israeli interlocutors to lift, immediately, the blockade on Lebanon, and I am working with them and other international partners to see to it that this is done," he said.
The UN resolution that ended the fighting called for a full reopening of Lebanon's ports and airport. But Israel has said it will not lift the blockade until UN troops are on Lebanon's border with Syria to prevent re-supplies of arms to Hizballah.
Annan also urged Hizballah to release the two Israeli soldiers captured on July 12 to the International Committee of the Red Cross (ICRC).
"I also renew my call for the abducted [Israeli] soldiers to be freed and, as a first step, to be transferred under the auspices of ICRC, either to the government of Lebanon or to a third party," he said. " We, the UN, will be prepared to play a role if we are required to do so."
On this, the start of his 11-day regional trip -- which in addition to Lebanon includes stops in Israel, the Palestinian territories, Syria, and Iran -- Annan said he had received assurances from the Lebanese government that it will "faithfully implement" the UN's Middle East cease-fire resolution.
EU states recently vowed on August 25 to form the core of the new peacekeeping force for Lebanon, UNIFIL-2. That promise gave the Annan's trip some badly-needed impetus after weeks of international wavering over who would lead and contribute to the force, and the extent of its mandate.
Now, with France set to head a mission that has permission to use force to preempt attacks against it, conditions are finally in place for the deployment to begin in earnest.
Regional Compliance Uncertain
But there is still much unfinished business in the region, and little assurance that all parties will fully cooperate.
Annan described the challenge after meeting earlier today with Lebanese parliamentary speaker Nabih Berri.
"We are now entering the stage of recovery and reconstruction and the full implementation of the [UN Security Council] Resolution [1701], as I have indicated, and I have assured Mr. Berri that the United Nations and the international community would want to work very, very effectively with the parties to ensure that we do implement the resolution to the fullest and that we have a long-term peace in this region," Annan said.

Ahead of Annan's arrival, Hizballah signaled that its fighters will not oppose the force's deployment.
But Hizballah leader Sheikh Hassan Nasrallah also said he expects the international community to support his calls for a prisoner exchange with Israel.
"Some contacts have already been made, and some of these [contacts] have already taken place. Italy seems to be trying to get involved in this issue," Nasrallah said. "I think that the United Nations is interested and the negotiations would be through Berri. As for Mr. Kofi Annan, I have no problems to see him about this issue, but at this time my main concern is the security situation," Nasrallah said in a Lebanese television interview on August 27.
Syria Against UN Force
Annan has previously said both sides will have to make "painful compromises" to get what they want.
However, Damascus has said it will not accept the deployment of a force on its border with Lebanon.
Syrian President Bashar al-Assad has warned if it happens, he will close the border -- a serious threat, since the border is Lebanon's only land-link to the outside world.
On September 2, Annan will travel on to Iran, a major backer of Hizballah. There, the UN chief is expected not only to talk about Lebanon but also about the Iranian nuclear crisis.
His visit to Tehran will come just two days after the expiration of the UN-set August 31 deadline for Iran to suspend uranium enrichment.
So far, Iran has given no sign it will comply with the UN resolution passed on July 31 that set this week's deadline.
In Tehran today, President Mahmud Ahmadinejad reiterated that Iran will not surrender what it sees as its right to pursue peaceful nuclear technology.
Iran, Syria, And Hizballah
Iran, Syria, And Hizballah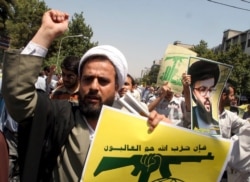 Iranians demonstrating in support of Hizballah in Tehran on July 17 (epa)

'FOR THE SAKE OF LEBANON': The Islamic Republic of Iran has served as an ideological inspiration for Hizballah since the Lebanese militant group's creation in 1982, and Tehran acknowledges that it supports the organization morally and politically. "Yes, we are friends of Syria and Iran" Hizballah leader Hassan Nasrallah has said. "For 24 years we benefited from our friendship with Syria and Iran for the sake of Lebanon...." (more)
RELATED ARTICLES
Tehran Playing Key Role In Israel-Lebanon Crisis
Iran, Hizballah Brush Off U.S. Terrorism Label
Intifada Conference In Tehran Has Multiple Objectives
UN Resolution Rankles Syria, Hizballah, Iran
ARCHIVE
RFE/RL
coverage of Iran
. RFE/RL web special on
Iran's nuclear program
.
SUBSCRIBE
For weekly news and analysis on Iran by e-mail,
subscribe to "RFE/RL Iran Report."