U.S. Senators Wrap Up Georgia Visit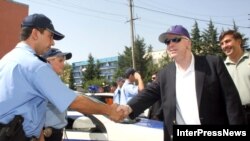 McCain (right) meeting with police officers in Mtskheta on August 27 (InterPressNews) August 29, 2006 (RFE/RL) -- A delegation of U.S. lawmakers led by prominent Senator John McCain (Republican, Arizona) left Tbilisi today after a four-day tour of Georgia.
During their visit, the lawmakers toured several Georgian regions with President Mikheil Saakashvili.
McCain, who is a likely presidential candidate for the Republican Party in 2008, reiterated U.S. support for Georgia, which he said has made impressive progress since the 2003 Rose Revolution.
McCain, who traveled to the separatist South Ossetia region, also called for replacing Russian peacekeepers there and in Abkhazia, Georgia's other breakaway region, with an international force:
"It is time to evaluate whether the Russian peacekeepers are carrying out their mission in an objective fashion, and I believe serious consideration should be given to a new force, either from the [Organization for Security and Cooperation in Europe] or the UN, which can do a job that is more credible than the present Russian peacekeeping force," McCain said.
Richard Lugar (Republican, Indiana), the chairman of the U.S. Senate Foreign Relations Committee, made a similar call when he visited Georgia last week.
(with material from Rustavi 2, civil.ge)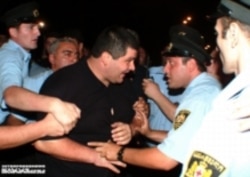 Georgia's police have been accused of using excessive force (official site)


READ
'CULTURE OF IMPUNITY':
Georgian President Mikheil Saakashvili's government has had
a checkered human rights record
since it came to power after the 2003 Rose Revolution. The international community has welcomed the steps taken by the new Georgian leaders to refine the legal mechanisms needed to combat rights abuses. But it also blames the government for failing to ensure those mechanisms are properly implemented
....(more)
RELATED ARTICLES
Rights Group Sees Rise In Police Brutality In Georgia
Citizens See No Improvement In Society, Economy After Revolutions
Helsinki Report Finds Human Rights Problems Plague Entire Region