Pakistani security forces had to use tear gas to disperse rioters on the streets of Quetta the last few days. Like other towns and cities across Baluchistan, the provincial capital Quetta has been mired in violence since the August 26 death of Baluch tribal leader Nawab Akbar Khan Bugti. The volatile province shares long, porous borders with Afghanistan and Iran.
Bugti had pressed demands by Baluch nationalists for greater autonomy for Pakistan's most sparsely populated and poorest province. For years, he also led demands for Baluchistan to receive a bigger share of revenues from the sale of its natural gas.
Musharraf has vowed to stamp out armed opposition in Baluchistan. He reportedly told his cabinet on August 27 that every step must be taken to impose government authority in the province. But he also said the door remains open for talks.

Accidental Killing Claimed
Faced with the backlash to Bugti's death, Pakistani Prime Minister Shaukat Aziz has denied that the killing was deliberate. State Minister for Information and Broadcasting Tariq Azim Khan says Bugti died when explosives in his cave hideout went off during heavy fighting nearby.
"It was never our intention to harm [Nawab Akbar Khan Bugti] physically," he said. "What happened was something that was not the government's own doing. Land mines which exploded caused this explosion to bring down the cave. But certainly it was not our intention to kill him."
But that claim has been met with cynicism -- particularly given the large scale of Pakistan's military operations against Baluch insurgents and reports that President Pervez Musharraf described Bugti's death as a victory.
Regardless of the intentions of Pakistan's military, analysts say the killing of Bugti has become another item on a long list of grievances by Baluch nationalists against the central government in Islamabad.
Christine Fair, a research associate at the U.S. Institute for Peace, says Bugti's death is probably going to mobilize and unify different Baluch groups that previously opposed Bugti.
Strengthening The Resistance?
Retired Lieutenant General Hameed Gul -- the former head of Pakistan's Inter-Services Intelligence agency -- agrees. Gul says that rather than weakening the insurgency by Baluch nationalists, Bugti's death is likely to bolster the movement.
"The problem here that I foresee is that Bugti has become a symbol of Baluch resistance," he said. "And it is the youth -- the Baluch youth -- who will rally around this symbol."
Gul says the killing of Bugti has damaged Musharraf's credibility and is likely to add to the political troubles of a presidency that began when Musharraf used his support from within Pakistan's military forces to seize power in a bloodless coup.
"On many counts, [Musharraf] was isolated -- previously isolated," Gul said. "But with this event, I think now his troubles are going to increase. This is an increment to the problems that he was facing politically."
Already, opposition leaders from across Pakistan's political spectrum joined together on August 28 to map out a new joint strategy.
Opposition leader Kachkul Ali Baluch has called Bugti's death a "major event in Baluch history." And Amin Fahim, a member of the opposition Pakistan People's Party Parliamentarians, says the killing has unified those who are seeking greater autonomy for Baluchistan.
What Baluch Nationalists Want
"We will rise -- we have already risen -- to release Pakistan from the clutches of the military rulers," Fahim said. "The military has no right to rule Pakistan, nor is there any legal justification or constitutional provision for it to do so. The military should restrict itself to the task that the constitution has allotted to it."
But Gul says strong factional divisions between different Baluch nationalist leaders remain.
"I don't think we've come to a breaking point," he said. "I was listening to the statements of the Baluch leaders who may have had in the past lot of differences with Akbar Bugti. But they are now, of course, standing by him posthumously. But not a single leader has said that we want it at the cost of Pakistan, whatever the rights they are demanding. So they are still wanting that somehow a settlement should be reached within the constitutional framework of Pakistan."
Baluch nationalists have waged their low-key insurgency for decades. In the past year, they have increased the number of attacks on infrastructure within Baluchistan -- including security posts and natural gas pipelines.
Musharraf has vowed to stamp out armed opposition in Baluchistan. He reportedly told his cabinet on August 27 that every step must be taken to impose government authority in the province. But he also said the door remains open for talks.

Afghanistan And Pakistan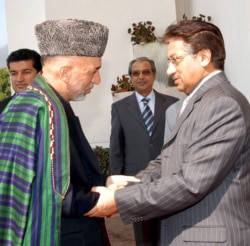 Afghan President Hamid Karzai (left) with Pakistani President Pervez Musharraf in Islamabad in October 2005 (epa)

ACROSS A DIFFICULT BORDER. The contested border between Pakistan and Afghanistan is some 2,500 kilometers long and runs through some of the most rugged, inhospitable territory on Earth. Controlling that border and preventing Taliban militants from using Pakistan as a staging ground for attacks in Afghanistan is an essential part of the U.S.-led international coalition's strategy for stabilizing Afghanistan. Officials in Kabul have been pointing their fingers at Pakistan for some time, accusing Islamabad or intelligence services of turning a blind eye to cross-border terrorism targeting the Afghan central government. Many observers remain convinced that much of the former Taliban regime's leadership -- along with leaders of Al-Qaeda -- are operating in the lawless Afghan-Pakistani border region.... (more)
RELATED ARTICLES
Pakistan-Afghanistan Conflicts Continue
Karzai, Musharraf Spar Ahead Of Bush Meeting
Musharraf Says Taliban Could Spark Pashtun 'National War'
Afghan Minister Attacks Pakistani Support For 'Terrorism'
Historical Context Of Afghan-Pakistani Relations
Afghanistan/Pakistan: 'Inseparable Twins' In Need Of Separation
ARCHIVE
RFE/RL
coverage of Afghanistan
. RFE/RL
coverage of Pakistan
.
SUBSCRIBE
For weekly news and analysis on Afghanistan by e-mail,
subscribe to "RFE/RL Afghanistan Report."