Under their new accord, the military forces of Pakistan and Afghanistan will conduct coordinated and simultaneous patrols along their respective sides of the border to prevent Islamic militants from moving between the two countries.

U.S. and NATO troops in Afghanistan also will participate in patrols aimed at improving security along the nearly 2,500-kilometer border.

Three-Way Deal

The agreement was reached at talks in Kabul on August 23 by members of the so-called Tripartite Commission. That's a grouping that includes senior military officials from Afghanistan, Pakistan, the United States, and NATO.

U.S. Army Colonel Tom Collins, a spokesman for the U.S.-led coalition in Afghanistan tells RFE/RL the agreement is a breakthrough.

"I don't know what [these coordinated patrols are] going to look like yet because they still have to do a lot of staff work to figure out how to best make this happen," Collins says. "You will have, primarily, the U.S. forces under the coalition working with the Afghan National Army in the eastern sector [of Afghanistan]. And then in the south, you primarily have Canadian, British, and Romanian forces working with the Afghan National Army and patrolling along the border."

Military leaders present at this week's talks in Kabul included Pakistani Army Vice Chief of Staff General Ahsan Saleem Hayat, Afghan National Army Chief of Staff General Bismullah Khan, and the head of the U.S.-led coalition, Lieutenant General Karl Eikenberry. Present for the first time at a Tripartite Commission meeting was the commander of NATO forces in Afghanistan, British Lieutenant General David Richards.

Spokesman Collins, who also attended the talks, says the mood between the Afghan and Pakistani military leaders was friendly -- with officers from both sides referring to each other, for the first time, as "brothers."

"There are senior military officers who are interested very much in getting things done," Collins says. "Both sides recognize that cross-border infiltration remains a significant problem -- especially those who are coming into Afghanistan to do evil things and also, from Afghanistan, moving back into sanctuaries in Pakistan. So this group is very much interested in fixing that situation. If you look where the Pakistanis and the Afghans were when we first started [the] Tripartite [Commission] some three years ago, we are light years ahead of where we were."

Talking More

Afghan Defense Ministry spokesman General Zahir Azimi tells RFE/RL's Radio Free Afghanistan that he thinks the talks were "extraordinary."

"We have agreed that from now on, [Pakistan and Afghanistan] will maintain closer communications," Azimi says. "And we will have simultaneous and coordinated border patrols -- sharing intelligence information that we gather. We will cooperate more than before. We also will try to clear land mines from the border area."

Collins says Afghan and Pakistani border posts have been equipped with radios that allow communication and coordination. He says it is a level of cooperation between the two countries that did not exist 18 months ago.

"The United States gave a bunch of high-frequency radios to be used on the border so that the Pakistanis and the Afghans can talk to each other through these high mountains," Collins says. "That is a concrete example of the coordination that is going on from an Afghan soldier to a Pakistani soldier on the ground right now. At the higher levels, we are certainly talking to each other about future operations -- making sure the other side is aware of what we are doing and how they can possibly facilitate our operations on this side of the border. That is occurring at the senior levels."

Much Remains To Be Done

Collins admits there is still much work to be done by both Pakistani and Afghan officials to ensure that Taliban fighters and their supporters are not able to carry out cross-border terrorist attacks.

Those challenges make some experts on Afghanistan and Pakistan skeptical about claims of "breakthroughs" in relations between the two countries.

Isobel Coleman, a senior fellow at the U.S.-based Council on Foreign Relations, tells RFE/RL she thinks the agreement is probably more of a smoothing over of problems than any fundamental change.

"A breakthrough is hard to in this relationship," Coleman says. "These moves are good tactical steps. But the much deeper, larger problem is that there are people within the Afghan military who are deeply suspicious of the motives of the Pakistanis. And within the Pakistani military [there are people] who do not support politically the goals of what the military is trying to do in policing that border. They just have some fundamental diverging interests there."

General Azimi says he thinks Pakistan has agreed to coordinate efforts against militants in the border region because of pressure from the international community.

"We talked about the major problem in relations between Afghanistan and Pakistan -- that is, the movement of terrorists from Pakistan into Afghanistan and back again," Azimi says. "And now, we are in a situation where the international community agrees that the root causes of terrorism and violence -- the support for terrorists coming from outside of Afghanistan. Terrorists are being trained and equipped abroad, and then coming into Afghanistan."

International Pressure?

Coleman says the timing of the accord probably is the result of enormous foreign pressure on Islamabad to deal firmly with Taliban and Al-Qaeda militants who shelter in Pakistan's mountainous tribal along the border with Afghanistan.

"I think it's probably more U.S. pressure than anything else," Coleman says. "But the British pressure should not be discounted. I think it's a fact that the security situation in Afghanistan is deteriorating. And you see an [increase] in U.S. casualties and in British casualties. And the fact that NATO is taking over a lot of these military operations lends an international flavor to the pressure that is being brought down on Pakistan. But that NATO role is truly driven, still, by the United States and Britain."

Coleman says alleged links between Pakistani militants and the thwarting of a recent plan to destroy civilian passenger planes flying out of the United Kingdom does not explain all of the pressure on Pakistan. She notes that the real pressure on Pakistan's military forces began earlier this year when U.S. President George W. Bush met in Islamabad with Pakistan's president, General Pervez Musharaff.
Afghanistan And Pakistan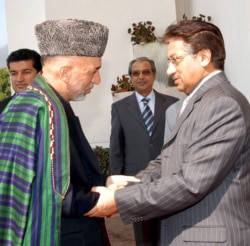 Afghan President Hamid Karzai (left) with Pakistani President Pervez Musharraf in Islamabad in October 2005 (epa)

ACROSS A DIFFICULT BORDER. The contested border between Pakistan and Afghanistan is some 2,500 kilometers long and runs through some of the most rugged, inhospitable territory on Earth. Controlling that border and preventing Taliban militants from using Pakistan as a staging ground for attacks in Afghanistan is an essential part of the U.S.-led international coalition's strategy for stabilizing Afghanistan. Officials in Kabul have been pointing their fingers at Pakistan for some time, accusing Islamabad or intelligence services of turning a blind eye to cross-border terrorism targeting the Afghan central government. Many observers remain convinced that much of the former Taliban regime's leadership -- along with leaders of Al-Qaeda -- are operating in the lawless Afghan-Pakistani border region.... (more)
RELATED ARTICLES
Pakistan-Afghanistan Conflicts Continue
Karzai, Musharraf Spar Ahead Of Bush Meeting
Musharraf Says Taliban Could Spark Pashtun 'National War'
Afghan Minister Attacks Pakistani Support For 'Terrorism'
Historical Context Of Afghan-Pakistani Relations
Afghanistan/Pakistan: 'Inseparable Twins' In Need Of Separation
ARCHIVE
RFE/RL
coverage of Afghanistan
. RFE/RL
coverage of Pakistan
.
SUBSCRIBE
For weekly news and analysis on Afghanistan by e-mail,
subscribe to "RFE/RL Afghanistan Report."