Madonna's current tour features a reprise of her 1989 hit "Like A Prayer" -- performed as the singer is subject to a mock crucifixion.
The stunt is hardly new for the 48-year-old singer. But Madonna rarely fails to spark fresh outrage among the world's Christian faithful.
In country after country, religious leaders have called on followers to reject a night's entertainment in favor of standards of decency.
"It's apparent that those people who believe Madonna's concert is unacceptable will not be attending it."
Now the Russian Orthodox Church has added its voice to the detractors -- calling on believers to boycott Madonna's upcoming concert in Moscow.
But if experience is any indicator, when you're Madonna there's no such thing as bad publicity.
Promoter Anton Antrashkin told RFE/RL Russian Service correspondent Lyubov Chizhova that 35,000 tickets have already been sold for the pop diva's first-ever Russian performance:
"Regarding the Russian Orthodox faithful, I can say that organizers were announcing from the very beginning that they respected the position of the Russian Orthodox Church," Antrashkin said. "It's apparent that those people who believe Madonna's concert is unacceptable will not be attending it."
But the controversy surrounding Madonna's Moscow moment doesn't stop there.
Difficulties Finding A Site
After a week of negotiations, organizers were forced to move the site of the concert after fears were raised that the original open-air venue at Vorobyovye Gory would be impossible to police properly.
City authorities also reportedly objected to organizers' concerns that the site, located near the campus of Moscow State University, would allow students to view the concert from their dormitory windows for free.
Other proposed locations had their own security weaknesses as well. One, the Tushino airfield in northwestern Moscow, was the site of a bombing that killed 15 people during a rock festival in 2003.
Ultimately, officials and planners agreed to hold the concert at the Luzhniki Olympic complex. Organizers say Luzhniki is preferable because it has a larger capacity than the original venue and appropriate security standards. The date of the concert was also moved from September 11 to September 12.
Those decisions, made on August 28, appear to put an end to doubts Madonna's concert would not be held at all.
Her website, however, has yet to make any mention of a Moscow gig. Its tour listing skips directly from a September 6 concert in Prague to a September 16 appearance in Osaka, Japan.
Putin Meeting In Doubt
Uncertainty also remains about Madonna's rumored desire to meet President Vladimir Putin.
The singer in the past has confessed to having dreams in which former Soviet leader Mikhail Gorbachev attended her concerts.
British tabloids had reported that Putin agreed to a meeting only through the persuasion of his two daughters. The Kremlin, however, denies that any meeting between the president and the pop star is to take place.
"I don't know anything about a meeting between President Putin and Madonna. That information was never confirmed by the singer's management or the organizers. Any conjectures on the topic are pure speculation," promoter Antrashkin said.
"The Russian organizers have offered her a full cultural program," he added. "Not only the architectural and historical sides of Moscow, but the glamorous side as well: the best clubs, the best restaurants. But the singer will decide what she wants to do literally only the day before [the concert], as is her right."
Architectural tours, museum lectures, clubbing. It may seem a disappointing alternative to a meeting with the president.
Putin has already shown that he is not, in principle, immune to the charm of rock celebrities. In 2003, he invited ex-Beatle Paul McCartney to the Kremlin for tea and a guided tour. The meeting came hours before McCartney held a concert at Red Square -- the best real estate in Moscow.
Dozens of Western rock groups have performed on Moscow's fabled square. Madonna had reportedly hoped to do so as well. But authorities have recently taken steps to prevent Red Square from the "damaging" effects of large rock concerts.
Rock legend Eric Clapton canceled a July performance in the Russian capital after he was denied permission to perform on the square.
So Madonna, at least, is in good company when it comes to facing difficulties in performing in Moscow.
Moscow, May 27, 2006
'ABSOLUTELY UNACCEPTABLE FOR MOSCOW': On May 27, gay activists attempted to hold a peaceful demonstration in Moscow. Earlier , the AP quoted Moscow Mayor Yury Luzhkov as saying that gay-pride parades "may be acceptable for some kind of progressive, in some sense, countries in the West, but it is absolutely unacceptable for Moscow, for Russia."
"As long as I am mayor, we will not permit these parades to be conducted," Luzhkov said.
RFE/RL Moscow correspondent Claire Bigg attended the demonstration and filed these sounds and images.
LISTEN
Listen to the sounds of the demonstration (about 90 seconds):
Real Audio
Windows Media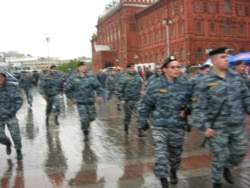 Riot police rushing to the scene of the wreath-laying near the Kremlin wall (RFE/RL)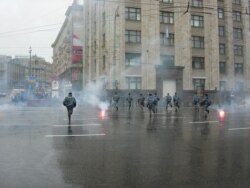 Antigay counterprotesters fired flares into the street in order to prevent the gays from marching (RFE/RL)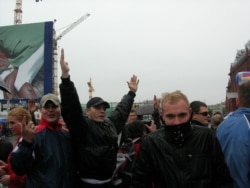 Nationalist youths shouted homophobic slogans such as "death to pederasts!" (RFE/RL)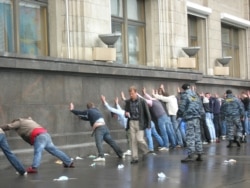 Riot police arresting some of the antigay counterdemonstrators (RFE/RL)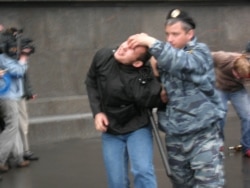 A police officer detaining an antigay counterdemonstrator (RFE/RL)

SUBSCRIBE
For a regular review of civil-society developments throughout RFE/RL's broadcast region, subscribe to "RFE/RL (Un)Civil Societies."