Party leaders said the new party would be in opposition to the Kremlin-backed Unified Russia party, but would support President Vladimir Putin's policies.
"We support the course laid out in Russian President Vladimir Putin's message to the Federal Assembly, but we oppose a political monopoly and the monopoly of one political party in Russia as the president's message is being implemented," said Sergei Mironov, the leader of the Party of Life and the speaker of the Federation Council, the upper house of parliament,
No name for the new party has been chosen yet, but Mironov said a working name would keep the key words from the names of the constituent parties.
He also said the new party would run in the 2007 parliamentary elections and hopes to become a "majority party." Currently only Motherland holds seats in the State Duma, the lower house of parliament.
All three leaders dismissed the suggestion that the new structure was a Kremlin project, despite speculation that it is being formed to draw votes away from the Communist Party.
(RIA Novosti, ITAR-TASS, Interfax)
Investigating The Beslan Tragedy
Investigating The Beslan Tragedy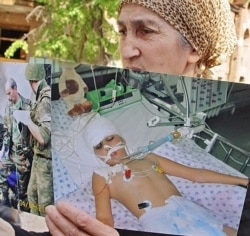 A woman holds a picture of her son, who was injured during the Beslan hostage taking, while she listens on May 16 to the verdict in the only Beslan-related trial to be held (TASS)
WILL THE TRUTH BE KNOWN?
As the second anniversary of the Beslan tragedy neared, Duma Deputy Yury Savelyev, a member of the official investigating committee, issued a 700-page report that veers sharply from the official explanation
...(more)
RELATED ARTICLES
Parliamentary Probe Into Beslan Tragedy Finds Officials At Fault
Basaev Says Beslan Raid Prompted By FSB Sting
Putin's 'Managed' Investigation Into Beslan
Putin Rejects Open Inquiry Into Beslan Tragedy
Troubling Questions Remain About Bloody Beslan Siege

An archive of RFE/RL's coverage of Beslan and its aftermath.