In an exclusive interview with RFE/RL's Kyrgyz Service, Jekshenkulov said Kyrgyzstan is in no position to "fight terrorism" alone and has to enlist the support of its neighbors.
"If there is cooperation between the security services of [Kyrgyzstan and Uzbekistan] on security issues, is it something bad? Not only Kyrgyzstan, but even the world's leading states are unable to fight terrorism alone," he said. "That's why he have to cooperate with the whole international community [in general], and with our neighbors [in particular] on those issues."
On July 25, Kyrgyz President Kurmanbek Bakiev said that he and his Uzbek counterpart, Islam Karimov, had
recently agreed to join forces
in combatting "international terrorism" and "religious extremism"
On August 6,
Rafiq Qori Kamoluddin
, a prominent ethnic Uzbek imam in the Kyrgyz town of Kara-Suu, was killed in nearby Osh during a joint Kyrgyz-Uzbek security operation.
On August 9, Kyrgyzstan
deported four Uzbek UN refugees
and one asylum seeker who were wanted in their home country for their alleged participation in the May 2005 Andijon unrest.
Kyrgyz rights campaigners, including Ombudsman Tursunbai Bakir-uulu, have criticized Bakiev for "imitating Karimov's heavy-handed policy" against alleged Islamic militants.
Hizb Ut-Tahrir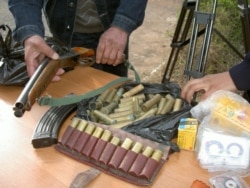 Arms and leaflets allegedly confiscated from Hizb ut-Tahrir members in Kyrgyzstan in May (RFE/RL)

ATTRACTIVE TO THE YOUNG: It is virtually impossible to estimate the size or composition of Hizb ut-Tahrir's membership in Central Asia, because the controversial movement is banned in most places. But some observers say anecdotal evidence suggests the group's core of younger members is growing....(more)
RELATED ARTICLES
Russia Approves List Of 17 'Terrorist' Groups
Extremist Threats, And Doubts, In Kyrgyzstan, Tajikistan
Hizb Ut-Tahrir's Calls For Islamic State Find Support
Hizb Ut-Tahrir Challenges Britian's Proposed Ban
Lone Islamic Party Pursues Dual Path In Tajikistan

A thematic webpage devoted to issues of religious tolerance in RFE/RL's broadcast region and around the globe.