U.S. State Department spokesman Tom Casey announced on August 29 that "the visa for former President Khatami has been issued."
Khatami, a reformist cleric who was Iran's president from 1997 to 2005, is the most senior Iranian to visit the United States since Washington broke off diplomatic relations following the Islamic revolution and takeover of the U.S. Embassy in Tehran in 1979.
(AFP)
What The Street Thinks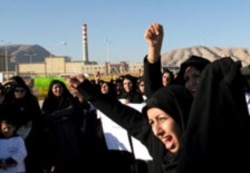 A demonstration in support of Iran's nuclear program outside the Isfahan uranium-conversion facility in Isfahan in January (epa)

IRANIANS SPEAK OUT ON THE DISPUTE: To find out more about what Iranians think about the international controversy over their country's nuclear program, RADIO FARDA asked listeners to express their views....(more)
See also:
Iran: Public Has Mixed Feelings On Nuclear Issue

THE COMPLETE PICTURE: RFE/RL's complete coverage of controversy surrounding Iran's nuclear program.
CHRONOLOGY
An annotated timeline of Iran's nuclear program.