Space Tourist's Launch Date Delayed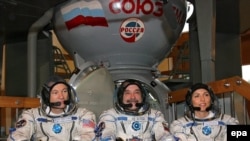 Anousheh Ansari (right) pictured during training (epa) August 30, 2006 -- Russian space officials say the launch of a Russian capsule carrying the first female space tourist into orbit will likely be moved back by four days because of a delay in the planned liftoff of the U.S. shuttle.
The launch of the Soyuz capsule was scheduled for September 14.
Nikolai Sevastyanov, the head of Russia's leading space company -- the state-controlled RKK Energiya -- said the launch could take place on September 18.
Sevastyanov said the U.S. space agency NASA agreed that the shuttle Atlantis will not be launched later than September 8 because that would interfere with Russia's schedule for returning the current crew of the International Space Station (ISS) to earth later that month.
Soyuz is due to carry Anoushesh Ansari, the first female space tourist, along with a Russian and a U.S. astronaut. Ansari is to return to earth with the current ISS crew on September 24.
Ansari, an Iranian-born American businesswoman, says she will carry both the U.S. and Iranian flags with her into space.
Anousheh, who grew up in Tehran but became a millionaire in America, will make her peace gesture at a time of high tension over Iran's nuclear program.
The eight-day trip will cost her $20 million.
(AP, ITAR-TASS, dpa)


UPDATED CONSTANTLY: Visit RFE/RL's Russian-language website, featuring news, analysis, features, streaming audio, and more, in Russian, from RFE/RL's Russian Service.
ARCHIVE
RFE/RL's English-language
coverage of Russia
.