The rally was planned for September 3 on Moscow's Lubyanka Square, but rights activists said authorities told them no rallies to mark the anniversary would be authorized in Moscow.
Svetlana Gannushkina, the leader of the rights group Civic Assistance, told RFE/RL that she believes the authorities did not sanction the rally to avoid drawing the public's attention to what she describes at the official investigation's failure to reach "objective conclusions."
"The authorities are not interested in letting people speak a lot and speak loudly about Beslan now," she said.
More than 330 people, many of them children, died when security forces stormed the school seized by militants on September 1, 2004.
Investigating The Beslan Tragedy
Investigating The Beslan Tragedy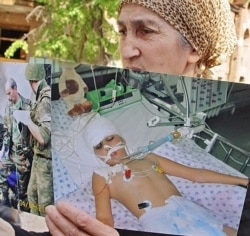 A woman holds a picture of her son, who was injured during the Beslan hostage taking, while she listens on May 16 to the verdict in the only Beslan-related trial to be held (TASS)
WILL THE TRUTH BE KNOWN?
As the second anniversary of the Beslan tragedy neared, Duma Deputy Yury Savelyev, a member of the official investigating committee, issued a 700-page report that veers sharply from the official explanation
...(more)
RELATED ARTICLES
Parliamentary Probe Into Beslan Tragedy Finds Officials At Fault
Basaev Says Beslan Raid Prompted By FSB Sting
Putin's 'Managed' Investigation Into Beslan
Putin Rejects Open Inquiry Into Beslan Tragedy
Troubling Questions Remain About Bloody Beslan Siege

An archive of RFE/RL's coverage of Beslan and its aftermath.