Reports on casualities vary widely, with different sources reporting figures between 30 and 80 people dead. The plane was reportedly carrying about 150 passengers and about 10 crew members.
The Russian-made Tupolev-154 was on an internal Iran Air Tours flight between the southern port city of Bandar-e Abbas and the northeastern city of Mashhad, near the Turkmen border.

It caught fire upon landing at 13:45 local time (10:15 GMT).

Iran's IRIB state broadcaster was the first to report on the crash and give a possible reason for the accident. It reported that the plane "suffered a burst tire while landing and flipped over and caught fire." State television reported there were a total of 147 people aboard the flight.
"A team of experts from Iran's Civil Aviation Organization has been created, and it's their responsibility to [investigate] the issue," Iran Air Tours President Mehdi Sadeghi said on Iran State Television. "They will announce the actual cause of the incident [publicly]. Unfortunately, a number of our compatriots have died, but the exact figures are not available because some have been transferred to hospitals. So, right now, we don't have exact figures."
"Flight No. 945 was en route from Bandar-e Abbas to the holy city of Mashhad," Sadeghi added. "It landed at 13:45 [local time] at Mashhad's airport. For reasons that are still not clear to us, it veered to the left, went off the runway, and caught fire."
Conflicting Casualty Counts

The Fars news agency said about 40 people survived the crash and that some of them are in critical condition. But an unidentified rescuer later told the agency only 20 people were found alive, and all the other people on board had died either of burns or suffocation.
However, a deputy to Khorasan Governor Ghahreman Rashid told Iran's state news agency (IRNA) that 55 passengers and 11 crew members survived the crash and are hospitalized. He said the deaths of 29 people have been confirmed.
An official from Iran's Red Crescent Society, Alireza Parand, is quoted by IRNA as saying 28 people were killed and 43 injured. He says 77 passengers survived the accident.

Despite IRIB's initial report, the cause of the accident remains unclear.
The Rescue Efforts
Mohammad Reza Shiri, a journalist who was at the airport in Mashhad, spoke to Radio Farda about two hours after the incident.
"The flights from Mashhad airport have not resumed," Shiri said. "In the first hours following the incident, flights to Mashhad were landing at other nearby airports. There were many ambulances going there."
"Because this incident happened on a Friday afternoon, we cannot see [reactions] from society because many have not been informed yet," he added. "But, what is clear is that people have always been pessimistic and didn't trust Russian planes and, unfortunately, it was again a Russian plane."

Nurollah Rezai Niaraki, the head of Iran's Civil Aviation Organization, told the Mehr news agency that the pilot may be responsible for the crash.

In comments made to another agency, Iran's ISNA student news agency, Niaraki said the pilot was Russian and that Iran Air Tours had leased the plane from a Russian company.

His claims could not be immediately confirmed.

Iranian Transportation Minister Mohammad Rahmati pledged the government would swiftly and thoroughly investigate the accident.
Iranian Aviation Disasters
Iranian Aviation Disasters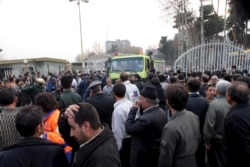 People gather near the scene after a C-130 crashed in a residential area of Tehran on December 6, 2005 (epa)
VICTIMS OF SANCTIONS? Iran has a history of aircraft accidents involving a heavy loss of life. In the past, the government has often blamed a U.S. trade embargo, which made it impossible for Iran to buy parts for its old U.S.-built aircraft. The United States introduced sanctions against Iran following the 1979 Islamic Revolution and the seizure of the U.S. Embassy in Tehran. The embargo on aircraft parts was partly lifted in October. Many of the Iranian crashes in recent years have involved older and heavily used Russian aircraft.
September 1, 2006: A Russian-built Tu-154 passenger airliner with about 150 people on board catches fire after landing in the northeastern city of Mashhad, killing 29 and injuring scores more. Authorities say a wing struck the ground and burst into flames when the plane skidded off the runway.
January 9, 2006: An Iranian military plane crashes in northwest Iran, killing 13 on board, including a senior Revolutionary Guard commander, police and news agencies reported.
December 6, 2005: A military C-130 aircraft carrying more than 90 people slams into a residential area in southern Tehran.
February 10, 2004: A Kish airlines Fokker-50 plane crashes during landing in Sharjah airport in the United Arab Emirates, killing 43 of the 45 passengers and crew aboard.
February 19, 2003: An Iranian Ilyushin-76 troop carrier crashes in southeastern Iran, killing all 276 Revolutionary Guard soldiers and crew aboard.
December 23, 2002: A Ukrainian An-140 crashes into a mountain in central Iran, killing all 46 aboard. Most of the passengers were top Ukrainian and Russian aerospace officials traveling to Iran to test fly an Iranian-built copy of the plane. The crash was blamed on pilot error.
February 12, 2002: An Iran Air Tours Tu-154 crashes near the western city of Khorramabad. All 119 people aboard are killed.
May 17, 2001: A Russian Yak-40 plane carrying 29 people, including Iran's transport minister, Rahman Dadman, and other deputy ministers crashes in northern Iran killing all on board.
February 2, 2000: An Iranian Air Force C-130 loses control during take-off from Tehran and crashes into an empty Iran Air A-300. Both planes are destroyed and all six aboard the C-130 are killed.
March 14, 1997: An Iranian military plane with about 80 people on board crashes in a mountainous region in north-east Iran, killing all passengers and crew.
October 12, 1994: An Aseman Airline Fokker F-28 crashes on an Iranian flight from Isfahan to Tehran, killing all 66 aboard. It crashes near Natanz, 150 miles south of Tehran.
March 17, 1994: A C-130 Hercules transport plane carrying Iranian women and children home for the Iranian new year crashes in the disputed Caucasus enclave of Nagorno-Karabakh, killing 19 passengers and 13 crew.
February 8, 1993: An Iranian airliner chartered by Iran Air Tours crashes after colliding with a military Sukhoi plane, killing all 132 on board. The pilot and co-pilot of the military plane are also killed.
July 3, 1988: An Iran Air A-300 Airbus is shot down over the Gulf by the U.S. warship "Vincennes," which wrongly identifies it as an attacking fighter. All 290 people on board are killed.
November 3, 1986: An Iranian Hercules C-130 army transport plane crashes into a mountain while trying to land at Zahedan airport, killing all 103 on board.
(compiled by RFE/RL)
ARCHIVE
RFE/RL's
coverage of Iran
.