Ramin Jahanbegloo told the official ISNA news agency that contacts with Western individuals and organizations had led to his being duped into "political" rather than philosophical work.
Within hours of his release on August 30, Jahanbegloo was admitting to ISNA that he unknowingly acted against Iran's interests. He said he had written articles for websites that had ties to "security agents." He also said U.S. and Israeli security agents were present at conferences he had attended.

Jahanbegloo, a prominent writer on democratization, said that during his prison term he felt U.S. organizations had put him in an uncomfortable position. He said he sees himself as a victim, and added that he "deviated" from philosophical research toward "political work."

Jahanbegloo accepted that he had "acted against national security through contacts with foreigners." But he noted that had not been charged with espionage.

Not Unique

Ostensibly voluntary confessions by dissidents during detention or shortly after their release are a common occurrence in the Islamic republic.

Iranian writer and journalist Faraj Sarkouhi issued similar statements several years ago. He told Radio Farda from his exile abroad that authorities use such interviews to lend weight to "false" charges.
"This is exactly like the interview security officials forced me to do at the airport. They had brought me from prison, but they were claiming that I had just returned from a trip to Germany."
"In these interviews, they determine certain angles for the accused or victim, so that he talks about them in the interview," Sarkouhi says. "This is exactly like the interview security officials forced me to do at the airport. They had brought me from prison, but they were claiming that I had just returned from a trip to Germany."

'We Don't Know'

Payam Akhavan, a professor of international law at Montreal's McGill University and a former UN war crimes prosecutor at The Hague, is part of a group of academics that appealed for Jahanbegloo's release. He says he saw signs that authorities had stage-managed Jahanbegloo's interview.

Akhavan told RFE/RL that the interview should be seen in the context of the four months that Jahanbegloo spent at Tehran's Evin prison.

"Even if he was not physically tortured, prolonged solitary confinement qualifies as a form of psychological torture -- sensory deprivation, being in a confined space where a light is on 24 hours a day [and] where you have no contact with the outside world," he says. "You lose your sense of day and night. This can seriously disorient people. And we also don't know yet what threats, coercion, or inducements he might have received while in prison."

Akhavan says that the statements could be part of a deal forced on Jahanbegloo to win his release. "I believe there has been a deal here that he would perhaps make a confession and perhaps refrain from certain activities in exchange for being released from prison," he says. "Part of the deal, I suspect, is that he not speak with the foreign press -- or at least if he speaks, he would not say anything different from his confessions."

Vague Accusations

Jahanbegloo said in his interview that he had to surrender the deeds of two homes as bail, and that his case is still before Tehran's Revolutionary Court.

While he said his life behind bars had been difficult, Jahanbegloo repeated several times that he had not been subjected to physical or psychological pressure. He said his interrogators had treated him "politely."

Jahanbegloo, who was arrested at Tehran airport in late April, said his contacts with foreigners began in the late 1990s after he went from Canada to Harvard University.

He singled out a scholarship with the National Endowment for Democracy and claimed the chain of events leading to his arrest began when he went to Washington for the 2001-02 academic year.

He said his contacts with U.S. institutions led to meetings with individuals from the U.S. State Department.

Jahanbegloo also warned that other members of Iranian academia and civil society are in danger of falling into the same trap. He claimed that invitations to conferences, grants, and contact with U.S. institutions are a slippery slope that threatens Iranian national interests.

Sending A Message

For the exiled writer Sarkouhi, the message the Islamic establishment wanted to convey with Jahanbegloo's confession is clear.


"Intellectuals and academics and those involved in cultural activities should avoid cultural contacts with the world's cultural institutions -- otherwise they will face the same fate that Mr. Jahanbegloo faced," Sarkhouhi says.
Jahanbegloo, a Harvard- and Sorbonne-educated philosopher, has published more than 20 books in English, French, and Persian. Hundreds of prominent Iranian and Western intellectuals and several human rights organizations had called for his release.
Ramin Jahanbegloo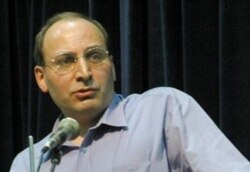 Ramin Jahanbegloo speaking in Tehran in 2004 (AFP)

THE FOURTH WAVE: In late April, it was announced that the Iranian authorities had arrested noted intellectual RAMIN JAHANBEGLOO. Jahanbegloo is a professor of philosophy in Iran and Canada and is the author of more then 20 books, including "Moje Chaharom" ("The Fourth Wave"). In November 2004, Radio Farda correspondent Fatemeh Aman interviewed Jahanbegloo about the current generation of Iranian intellectuals and its distinctive features.
Radio Farda: It seems that in your book you see a unique status and mission for the fourth generation in the process of progress and democratization in Iran. Why is that and what are the most important characteristics of this generation of intellectuals?
Ramin Jahanbegloo: The fourth generation is distinct from former ones for several reasons. First this is a democratically minded generation that cares about democratic values. This generation has a political approach toward these values and, importantly, it is heavily colored by the active presence of women. The other distinct feature of this generation is its belief in modernity. This modernity is not an imitation one, but rather is based on discourse. If in the past many thought they can become modern by imitating the Western way of life, today's intellectuals know that the real route to modernity is by understanding the modern world in the West and channeling this thought process into social, cultural, and political institutions....(more)

RELATED ARTICLES
Rights Advocate Calls Scholar's Arrest A Troubling Sign
Rights Groups Demand Scholar's Release
Iranian Activists Fear Looming Crackdown
ARCHIVE
For an archive of all of RFE/RL's coverage of Iran, click here.