Reports quote officials as saying Solana and Larijani have tentatively agreed to meet on September 6 in Vienna, Austria, but that this could still change.
German Foreign Minister Frank-Walter Steinmeier warned on September 4 that the United Nations Security Council may have to take action if Solana's talks fail to make progress in persuading Iran to halt uranium-enrichment work, as demanded by the Security Council.
"We agreed that Solana will have another meeting with the Iranians, but we have to be skeptical about whether it will work after UN Secretary-General Kofi Annan's meetings in Tehran," Steinmeier said. "If another conversation with Solana does not bring about a change in their attitude, then more negotiations will certainly not bring us further. Then, we have to refer this matter to the Security Council."
Annan, who concluded a visit to Iran on September 3, urged the world on September 4 to avoid confrontation with Iran, saying it would not be in Iran's or the world's interest.
(Reuters, AP)
Security Guarantees For Iran?
Security Guarantees For Iran?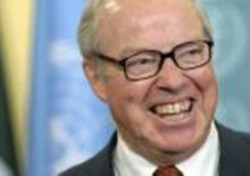 Hans Blix (CTK)

SECURITY GUARANTEES On January 26, RFE/RL Radio Farda correspondent Fatemeh Aman spoke with former UN chief weapons inspector HANS BLIX about the confrontation between Iran and the international community over Tehran's nuclear ambitions. Blix urged the United States to participate in direct negotiations with Tehran and to offer Iran security guarantees that are similar to those being discussed with North Korea...(more)
LISTEN
Listen to the complete interview (about five minutes):

Real Audio
Windows Media

THE COMPLETE STORY: RFE/RL's complete coverage of controversy surrounding Iran's nuclear program.