Speaking today during a visit to Cape Town, South Africa, with Russian President Vladimir Putin, Lavrov said his country wanted to prevent the spread of nuclear weapons.
But he added that Russia "unambiguously preferred" to see the standoff resolved through negotiations.
The Russian foreign minister also said any economic sanctions must be commensurate to the presence of a real threat to international security.
Iran has refused to halt uranium enrichment by an August 31 UN deadline. The United States, leading international concerns that Iran may be seeking to produce nuclear weapons, has called for sanctions. Russia and China -- both veto-holding UN Security Council members -- have previously opposed sanctions.
(compiled from agency reports)
Security Guarantees For Iran?
Security Guarantees For Iran?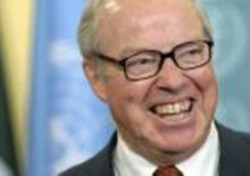 Hans Blix (CTK)

SECURITY GUARANTEES On January 26, RFE/RL Radio Farda correspondent Fatemeh Aman spoke with former UN chief weapons inspector HANS BLIX about the confrontation between Iran and the international community over Tehran's nuclear ambitions. Blix urged the United States to participate in direct negotiations with Tehran and to offer Iran security guarantees that are similar to those being discussed with North Korea...(more)
LISTEN
Listen to the complete interview (about five minutes):

Real Audio
Windows Media

THE COMPLETE STORY: RFE/RL's complete coverage of controversy surrounding Iran's nuclear program.