Talks between Iranian top nuclear negotiator Ali Larijani and EU foreign policy chief Javier Solana had been tentatively set for today in Vienna.
An Iranian diplomat said the talks are likely to be held in the Austrian capital in a "couple of days." Ambassador Ali Asghar Soltanieh said in Vienna that there was "no particular reason" for the delay.
The United States has led international concerns that Iran is covertly trying to develop a nuclear weapons program. Tehran says its program is for peaceful purposes.
In an apparent sign of international impatience, Russian Foreign Minister Sergei Lavrov said today Moscow was considering support for UN economic sanctions against Iran.
However, Lavrov said Russia still had reservations about imposing sanctions and underlined Moscow's opposition to any military action.
(Reuters, AFP, AP)
What The Street Thinks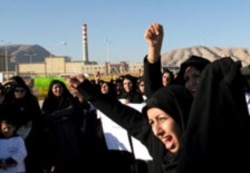 A demonstration in support of Iran's nuclear program outside the Isfahan uranium-conversion facility in Isfahan in January (epa)

IRANIANS SPEAK OUT ON THE DISPUTE: To find out more about what Iranians think about the international controversy over their country's nuclear program, RADIO FARDA asked listeners to express their views....(more)
See also:
Iran: Public Has Mixed Feelings On Nuclear Issue

THE COMPLETE PICTURE: RFE/RL's complete coverage of controversy surrounding Iran's nuclear program.
CHRONOLOGY
An annotated timeline of Iran's nuclear program.