PRAGUE, September 7, 2006 (RFE/RL) -- Valiollah Feyz Mahdavi death comes only five weeks after the death in custody of student activist Akbar Mohammadi.
Both men had reportedly gone on a hunger strike to protest against prison conditions. In the case of Mahdavi, Iranian officials have denied reports that he was on a hunger strike.
The deaths of Mahdavi and Mohammadi have heightened concern over the fate of other prisoners who are held in Iran for their political beliefs.
No Faith In Official Line
But there is little trust in Iranian official's comments about prisoners.
Officials usually provide very little information about the fate of prisoners and often deny reports about their protests in prison.
Some Iranian officials even deny the existence of political prisoners in Iran.
Reed Brody, a legal counselor with Human Rights Watch (HRW), tells RFE/RL that his organization doesn't believe what the Iranian officials are saying about Mahdavi's death.
"Unfortunately the Iranian prison officials have often given out false information about political prisoners," he said. "We know that Mahdavi was on hunger strike -- we were told by other inmates that prison officials had repeatedly ignored his health condition until it reached a critical stage."
Mahdavi's lawyer, Mohammad Ali Dadkhah, also questions the official version of Mahdavi's death in an interview with Radio Farda.
Two Versions Of His Death
"Some officials have said that [Mahdavi] committed suicide; this is unlikely," he said. "First of all, because he was not the type of person who would commit suicide. Secondly, in prison its not easy to commit suicide and it should be announced [if anyone] witnessed the suicide. I think he lost his life because of a lack of medical care."
Prisoners detained with Mahdavi in Gohardasht Prison in the city of Karaj have also rejected official claims that Mahdavi tried to hang himself with his clothes.
They have said that Mahdavi was on a hunger strike for nine days when he fell unconscious. They add that Mahdavi was almost dead when he was transferred to the prison clinic.
In recent days there have been reports that some prisoners were being pressured to declare on tape that they witnessed Mahdavi's suicide.
Sohrab Soleimani, the head of the prison organization in Tehran, said on September 4 that Mahdavi tried to commit suicide in the a prison bathroom on September 3. He added that he was revived at the prison clinic and then sent to Tehran's Shariati Hospital for further treatment.
Gohardasht prisoners said a day earlier that a prison worker had told them that Mahdavi is "brain dead."
Independent Investigation Called For
A newly created group, Human Rights Activists In Iran, was one of the first to inform people about Mahdavi's critical condition. It said it holds the Iranian government responsible for his death.
Human Rights Watch says the Iranian government should urgently appoint an independent commission of Iranian lawyers and doctors to investigate the deaths of Mahdavi and Mohammadi.
HRW counselor Brody added that, "The Iranian officials obviously don't want the truth to come out; just a few weeks ago on July 30 Akbar Mohammadi, who was also in prison, died under very suspicious circumstances. We believe it's important to generate international pressure so that there can be an independent investigation into the death of prisoners under suspicious circumstances."
Iranian officials have ignored that and numerous other calls for an independent investigation into Mohammadi's death in Tehran's notorious Evin prison.
More than one month after Mohammadi's death, authorities have also failed to announce the result of an official autopsy.
Worry About Others
The HRW's Brody says the deaths of the two men highlights the plight of political prisoners in Iran.
"This has been a cause for concern for a long time and both these prisoners who died were on a hunger strike protesting their conditions," Brody said. "Many of these prisoners have not had access to their lawyers and there needs to be clear oversight of the prison conditions."
Mahdavi was arrested in 2001 and charged with armed resistance against the state. Iranian officials said he was carrying explosives at the time of his arrest.
He was sentenced to death but it was later commuted to life imprisonment.
The deaths of Mahdavi and Mohammadi have heightened concern over the fate of other prisoners who are held in Iran for their political beliefs.
HRW has singled out Ali Akbar Mousavi Khoini, a human rights defender and former reformist legislator, who has been in detention since June 12. Khoini is reportedly held in solitary confinement in Evin prison and has no access to his lawyer.
Iran's Drug Problem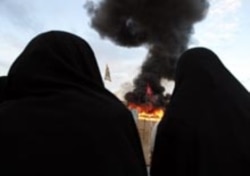 READ
DRUG USE ON THE RISE:
The Iranian approach to drug control is very relevant to the rest of the world, because Iran's neighbor, Afghanistan, is the world's leading producer of opium. Iran leads the international community in global opium seizure rates and it is second to Pakistan in opiate seizures, according to the UN Office on Drugs and Crime. Iran also leads the world in the prevalence of drug abuse (2.8 percent of the population aged 15 or older), according to the UNODC.
(more)
See also:
Iran: Country's Drug Problems Appear To Be Worsening
New Ways Considered For Tackling Growing Drug Use Among Young Iranians


SUBSCRIBE: For weekly news and analysis on Iran by e-mail, subscribe to "RFE/RL Iran Report."