Khatami, who has been in the United States since last week, is the most senior Iranian official to visit Washington since the 1979 revolution and the seizure of the U.S. Embassy in Tehran, during which U.S. diplomats were held hostage for 444 days.
It's been a highly controversial visit with protests by Jewish groups, lawmakers, former U.S. hostages, and also exiled Iranians who are opposed to the Iranian regime.
"We may have problems in Iran -- I protested [against them] myself -- but you should not compare Iran with countries that have experienced democracy for two centuries."
Khatami's visit to the United States has also stirred controversy in Iran, where the wife of the Iranian government's spokesman called Khatami a U.S. mercenary and suggested that he be defrocked.
Appealing For Peace
But there has also been praise for the charismatic Khatami for being a voice of reconciliation and promoting the idea of dialogue among civilizations.
During his unprecedented visit to Washington's National Cathedral, Khatami appealed for peace and said Christians, Muslims, and Jews should work together.
"In the beginning I would like to say that we -- the followers of 'Abrahamic' faiths -- should more than ever cooperate to expand peace in the world and fight against violence and tools of violence," Khatami said.
Nuclear Question
Reporters asked Khatami about the hottest issue on everybody's mind: Iran's controversial nuclear activities. As expected, Khatami defended his country's nuclear program and claimed that it is entirely peaceful.
"There were efforts to access peaceful nuclear technology under my term in office and they are continuing now," he said. "Iran is a member of the [Nuclear] Nonproliferation Treaty [NPT] and, according to the NPT, all member countries have the right to have this technology. There are ways to control that there are no deviations. Until now, the UN nuclear agency has said in all of its reports that there are no signs that Iran has diverted its [peaceful nuclear energy] program toward making nuclear weapons."
Khatami also renewed his call for the Middle East to be free of weapons of mass destruction. He said countries with nuclear weapons, such as Israel, India, and Pakistan, should join the NPT.
'Language Of Understanding'
The former Iranian president is in the United States on a private visit and U.S. officials have said that they have no plans to meet with him.
Khatami, who was Iranian president from 1997 to 2005, has called for "a dialogue with the American people."
Speaking in the Washington cathedral, Khatami said there should be a change from aggressive rhetoric to the "language of understanding" before there can be a dialogue between Washington and Tehran.
"I believe that before there can be some basis for talks between senior [U.S. and Iranian] officials, misunderstandings between the two countries should be removed," he said. "Unfortunately, these misunderstandings have a historical aspect. Naturally both sides have complaints; some are justified and some are not. We should be ready for talks based on mutual respect and equal rights."
'Democracy A Process'
Khatami was also asked about Iran's human rights situation and whether a dialogue of differing political views could be achieved.
He admitted there are problems in Iran and said human rights violations should be condemned wherever they take place.
Khatami, whose efforts to bring democratic changes in Iran were stymied by conservatives, said, "Democracy is a process, not a project."
"I think the Iranian society is moving in that direction, [though] it is facing problems and obstacles. There are conservatives and moderates in all societies but I believe all societies, including Iran, are moving toward moderation and democracy," Khatami said. "We may have problems in Iran -- I protested [against them] myself -- but you should not compare Iran with countries that have experienced democracy for two centuries."
Khatami also rejected the idea that some of the changes achieved under his two terms could be rolled back by his hard-line successor, Mahmud Ahmadinejad. He said the base of the Islamic Republic's policies remain the same.
Khatami said there are less problems in Iran than in places such as the U.S. detention center at Guantanamo Bay, Cuba.
During his U.S. tour, Khatami has attended a UN conference and other religious and academic events in several cities, including New York and Chicago.
Attacking Bush Administration
In interviews with U.S. media he has criticized U.S. President George W. Bush and said that U.S. policies are fueling terrorism.
U.S. officials have said that Khatami should be able to speak his mind. But they have also said that he should expect tough questions being posed to him.
State Department spokesman Sean McCormack said earlier this week that Khatami should be asked "the kind of questions that, if [they were] asked in Iran, would get the questioner thrown in jail."
While Khatami was speaking to reporters in the cathedral, about 300 protesters gathered outside demonstrated for freedom and democracy in Iran.
"We came here to tell all the people in the world we need freedom in [Iran]; we support all the young students in our country [and] we don't want this regime, we don't want an Islamic republic," one protester said. "We want freedom."
(RFE/RL correspondent Heather Maher in Washington and Radio Farda contributed to this report.)
Ramin Jahanbegloo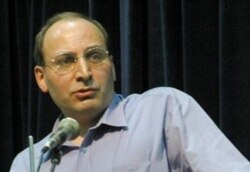 Ramin Jahanbegloo speaking in Tehran in 2004 (AFP)

THE FOURTH WAVE: In late April, it was announced that the Iranian authorities had arrested noted intellectual RAMIN JAHANBEGLOO. Jahanbegloo is a professor of philosophy in Iran and Canada and is the author of more then 20 books, including "Moje Chaharom" ("The Fourth Wave"). In November 2004, Radio Farda correspondent Fatemeh Aman interviewed Jahanbegloo about the current generation of Iranian intellectuals and its distinctive features.
Radio Farda: It seems that in your book you see a unique status and mission for the fourth generation in the process of progress and democratization in Iran. Why is that and what are the most important characteristics of this generation of intellectuals?
Ramin Jahanbegloo: The fourth generation is distinct from former ones for several reasons. First this is a democratically minded generation that cares about democratic values. This generation has a political approach toward these values and, importantly, it is heavily colored by the active presence of women. The other distinct feature of this generation is its belief in modernity. This modernity is not an imitation one, but rather is based on discourse. If in the past many thought they can become modern by imitating the Western way of life, today's intellectuals know that the real route to modernity is by understanding the modern world in the West and channeling this thought process into social, cultural, and political institutions....(more)

RELATED ARTICLES
Rights Advocate Calls Scholar's Arrest A Troubling Sign
Rights Groups Demand Scholar's Release
Iranian Activists Fear Looming Crackdown
ARCHIVE
For an archive of all of RFE/RL's coverage of Iran, click here.