Polish Police Release Kyrgyz Opposition Leader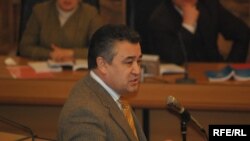 Omurbek Tekebaev (file photo) (RFE/RL) BISHKEK, September 8, 2006 (RFE/RL) -- Kyrgyz opposition leader Omurbek Tekebaev has been released from Polish custody.
Asylbek Tekebaev told RFE/RL's Kyrgyz Service that his brother was freed on September 8 after spending more than 24 hours in a Polish detention facility.
Tekebaev was detained at Warsaw airport on September 6 after Polish border guards reportedly found drugs in his luggage.
Opposition lawmaker Melis Eshimkanov said Tekebaev called him after his release and told him that Polish authorities had apologized to him over his detention.
Tekebaev was traveling with two other people -- a serving member of a parliament, Yury Danilov, and a former lawmaker, Zainidin Kurmanov -- who were not searched upon their arrival at the airport.
All three men were due to attend an international business forum in the Polish town of Krynica.
Opposition lawmaker Melis Eshimkanov tells RFE/RL's Kyrgyz Service that Tekebaev called him after his release to say that he had appeared in court early on September 8 and that Danilov and Kurmanov had been summoned as witnesses.
Tekebaev said "the court cleared Tekebaev of all charges because [investigators] could not find his fingerprints" on a wooden doll that contained the narcotics.
Maciej Kujawski, a spokesman for the Warsaw district prosecutor's office, said the court accepted Tekebaev's explanation that the drugs had been planted on him.
Eshimkanov said Tekebaev is planning to return to Bishkek "as soon as possible."
Opposition supporters in Bishkek say they suspect the Kyrgyz secret services set Tekebaev up.
Kyrgyzstan's National Security Service has denied any wrongdoing.
Prime Minister Feliks Kulov said on September 8 that he is "100 percent sure" Tekebaev is innocent and had fallen victim to a "dirty provocation."
RFE/RL Central Asia Report

SUBSCRIBE For regular news and analysis on all five Central Asian countries by e-mail,
subscribe to "RFE/RL Central Asia Report."