Russia Opens Plant To Destroy Chemical Weapons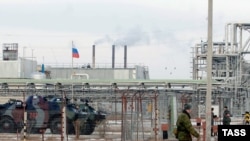 One of the two other plants built to destroy chemical weapons, in the Saratov region. (ITAR-TASS) September 8, 2006 -- Russia today officially opened a third plant to destroy some of its stockpile of chemical weapons.
The facility, at the site of a former chemical production plant some 725 kilometers northeast of Moscow, holds more than 17 percent of Russia's stockpile.
Russia is trying to meet an international deadline of April 2007 to eliminate 20 percent of its arsenal.
(AP)


UPDATED CONSTANTLY: Visit RFE/RL's Russian-language website, featuring news, analysis, features, streaming audio, and more, in Russian, from RFE/RL's Russian Service.
ARCHIVE
RFE/RL's English-language
coverage of Russia
.