Germany Criticizes U.S. Over CIA Prisons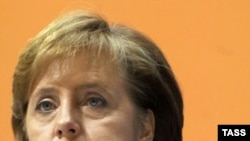 Angela Merkel (file photo) (ITAR-TASS) September 9, 2006 -- German Chancellor Angela Merkel has criticized the United States for keeping terrorism suspects in secret prisons overseas.
She said today such practices defied the rule of law.
But she welcomed U.S. President George W. Bush's acknowledgement this week of the existence of such prisons. Merkel has sought to bolster ties with the U.S. damaged by her the opposition of her predecessor, Gerhard Schroeder, to the war in Iraq.
(compiled from agency reports)