The festival to mark the birth of Imam al-Mahdi al-Muntadhar, a 9th-century religious leader, attracts Shi'ite pilgrims from across Iraq, as well as from other countries.
Thousands of police and Iraqi soldiers had been deployed in the city to prevent possible attacks. Since 2003, Karbala, some 110 kilometers south of Baghdad, has seen many suicide bombings, killing hundreds of people.
Elsewhere in Iraq, at least eight people were reported killed in separate attacks. Most of the attacks apparently targeted security forces. In one attack in Baghdad, a car bomb went off as a U.S. patrol passed by, killing two Iraqis. Three coalition troops were wounded.
(compiled from agency reports)
Sectarian Iraq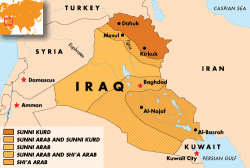 Click to enlarge the image.
SUNNI, SHI'A: Iraq is riven along sectarian lines, faults that frequently produce violent clashes and are a constant source of tension. Sectarian concerns drive much of Iraqi politics and are the main threat to the country's fragile security environment.


THE COMPLETE PICTURE: Click on the image to view RFE/RL's complete coverage of events in Iraq and that country's ongoing transition.