Solana called the meeting "productive," while Larijani said some misunderstandings between the two sides had been cleared up.
No further details were provided. Both men said they would meet again some time next week.
The EU is offering Iran economic incentives if it abides by a UN resolution demanding that Tehran stop its uranium-enrichment program.
Despite the reports of limited progress at today's talks in Vienna, Iran's position appears so far not to have changed.
Iranian Foreign Ministry spokesman Hamid Reza Asefi told a news conference in Tehran earlier that uranium suspension "is an issue that is in the past" and that Iran has no intention of suspending its program.
(compiled from agency reports)
Security Guarantees For Iran?
Security Guarantees For Iran?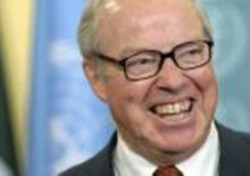 Hans Blix (CTK)

SECURITY GUARANTEES On January 26, RFE/RL Radio Farda correspondent Fatemeh Aman spoke with former UN chief weapons inspector HANS BLIX about the confrontation between Iran and the international community over Tehran's nuclear ambitions. Blix urged the United States to participate in direct negotiations with Tehran and to offer Iran security guarantees that are similar to those being discussed with North Korea...(more)
LISTEN
Listen to the complete interview (about five minutes):

Real Audio
Windows Media

THE COMPLETE STORY: RFE/RL's complete coverage of controversy surrounding Iran's nuclear program.