It also suggests that Russia cannot rely on that country to supply as much gas as it had hoped, and could be a clear sign that competition for Turkmenistan's most coveted resource might increasingly be between Russia and China.
Turkmenistan and Russia set the stage for long-term gas cooperation with 25-year, $300 billion agreement in April 2003 -- under which Turkmenistan should supply Russia with 2 trillion cubic meters of gas.

Moscow's New Strategy

It was little noted at the time, but that agreement marked the beginning of a Russian strategy to cope with declining yields at core Russian gas fields by purchasing cheaper Central Asian gas. The alternative would have meant investing vast sums to develop new domestic production.

Since then, Russian-Turkmen gas relations have had their share of drama. Against a backdrop of rising world prices, Turkmenistan has sought repeatedly to get more money from Russian state-controlled gas company Gazprom. The approach has included bare-knuckle negotiating tactics, including the occasional cutoff of shipments.

In 2003, Gazprom paid a mere $44 for 1,000 cubic meters of gas, half in cash and half in kind. By 2006, Gazprom was paying $65, all of it in cash.

Turkmen President Saparmurat Niyazov announced in February that he would again raise the price in the fall -- this time by half, from $65 to $100. Then on June 20, Turkmenistan threatened a cutoff unless Russia coughed up the higher price.

On September 5, Gazprom head Aleksei Miller and the Turkmen president inked an agreement on Turkmenistan's terms.

Under the terms of the deal, Gazprom will buy 12 billion cubic meters (bcm) of gas in the fourth quarter of 2006 and 50 bcm in the years 2007-2009. Gazprom's purchases in the first three quarters of 2006 are set to total 30 bcm.

Kyiv's Problem

The higher price is unlikely to prove onerous for Gazprom. Under the January 2006 agreement that ended the "gas war" between Russia and Ukraine, Gazprom's Turkmen gas is eventually sold to Ukraine. It is Kyiv that will feel the knock-on effect of the increase Gazprom has now accepted.

Ukraine currently pays $95 per 1,000 cubic meters for gas it buys from the Swiss-registered middleman Rosukrenergo, which is owned half by Gazprom and half by Ukrainian businessmen Dmitry Firtash and Ivan Fursin.

Rosukrenergo, for its part, buys a small amount of Russian gas at $230 per 1,000 cubic meters and larger volumes of Central Asian gas -- mainly from Turkmenistan -- at a much lower price. The resulting mixture costs Ukraine $95 per 1,000 cubic meters.


Russian press reports suggested that Ukraine will soon pay no less than $130 and probably around $140 per 1,000 cubic meters. Sergei Blagov, writing for Eurasianet on September 6, quoted a high figure of $160.
Interestingly, on June 20, the same day that Turkmenistan threatened Russia with a cutoff unless it received $100 per 1,000 cubic meters, Gazprom Deputy Chairman Aleksandr Ryazanov told a news conference that he envisaged Ukraine paying $150-$160 per 1,000 cubic meters by the end of the year.
Ukraine has been expecting a price hike, with the country's 2007 budget assuming a gas price of $135 per 1,000 cubic meters, according to a report on the Turkmen opposition website Gundogar. But it might take effect before then.
Ukrainian Fuel and Energy Minister Yuriy Boyko had stated optimistically that "the current price level of $95...[would] be retained until the end of the year," Russia's "Vremya novostei" reported on September 6. But Rosukrenergo representative Andrei Knutov told gazeta.ru that negotiations will start soon on the price terms for fourth-quarter 2006 shipments to Ukraine.
The higher price, which will impose significant burdens on Ukraine's inefficient industrial sector, creates some political awkwardness for Russia. Viktor Yanukovych, the pro-Moscow presidential candidate who lost to Viktor Yushchenko in a bitterly disputed 2004 election, became Ukraine's prime minister in August. A sudden spike in the price of gas would not augur well for his new term.
Russian Logic
Yet Moscow had solid reasons for acquiescing to Turkmenistan's shutoff threat if its price demands were not met. For one, Russia has become increasingly dependent on Turkmen gas to meet its lucrative export obligations. UBS analyst Kaha Kiknavelidze told "The Wall Street Journal" on September 6 simply, "Gazprom needs this gas."
However much Gazprom needs Turkmen gas, it will have to make do with less than it wanted. The original 2003 agreement between Russia and Turkmenistan envisioned Russian purchases of Turkmen gas rising to 80 bcm a year by 2009 and 100 bcm a year by 2010. The new agreement puts Russia's purchases through 2009 at 50 bcm a year -- and even that might be optimistic, given recent Turkmen production figures.
Russian website polit.ru noted on September 5 that Turkmenistan's moves toward energy cooperation with China might be another factor contributing to Russia's desire to nail down a contract. In April, China and Turkmenistan signed a framework agreement to build a gas pipeline linking the two countries by 2009. Since then, Chinese delegations have become a regular feature of life in Ashgabat, arriving to discuss what could be a 7,000-kilometer, $10 billion project. (Although no specific route or figures have yet been made public for such a pipeline, and specialists have cast doubt on the feasibility of the project, given the daunting geographic and financial obstacles.)
During his meeting with Gazprom's Miller, President Niyazov went out of his way to calm potential Russian unease by downplaying the possibility of alternative export routes, the Russian daily "Kommersant" reported. Niyazov pledged that his country "will supply Russia with gas," cautioning skeptics not to think that "Turkmenistan wants to go somewhere else with its gas." He added that the Turkmen side is "not ready to consider the trans-Caspian pipeline." Niyazov was also dismissive of the long-planned, long-stalled trans-Afghan pipeline project, AFP reported.
Tellingly, however, Niyazov said nothing to dim the luster of the planned pipeline to China, which appears to have served him well already.
Russia's Gas Strategy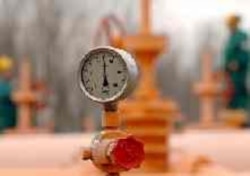 RUNNING HOT AND COLD The crisis over Russian supplies of natural gas to Ukraine that erupted on New Year's Day has implications that spread well beyond these two countries and will impact both economic and political policymaking throughout Europe. On January 19, RFE/RL's Washington, D.C., office hosted a briefing the examined the ramifications of the natural-gas conflict.
CLIFFORD GADDY, a senior fellow at the Brookings Institution, outlined Russia's "grand energy strategy," in which Ukraine is perceived as merely an obstacle frustrating Russia's energy ambitions in Western Europe and therefore a nonentity in Russia's broader strategic planning. According to Gaddy, Russia's strategic goal regarding energy is to maximize the role of its own energy resources in the world energy markets, so as to increase its geopolitical influence. To do this, it must reduce competition and maximize dependency on its own energy resources, as well as ensure a stable supply.
TARAS KUZIO, a visiting assistant professor at George Washington University, rebutted Gaddy's argument, claiming that Russia's actions evidenced a complete lack of geopolitical strategy and resulted in strong denunciations by Western countries and a loss of political allies in Ukraine. According to Kuzio, Russian President Vladimir Putin's desire to have a deal signed by the January 4 European Union energy summit outweighed his hope of reinforcing opposition to Ukrainian President Viktor Yushchenko during the run-up to Ukraine's March 26 parliamentary elections.
RFE/RL Coordinator of Corruption Studies ROMAN KUPCHINSKY did not fully agree with Kuzio's assessments of Yushchenko or Ukraine. He outlined three major problems that are feeding the conflict between Russia and Ukraine. The biggest, he argues, is that the state-controlled Russian gas giant Gazprom holds a monopoly on natural-gas sales outside the CIS. Kupchinsky also decried Ukraine's consumption of natural gas, terming it "out of control." Corruption is also a major factor in the conflict, Kupchinsky said, although the extent to which it taints the deal struck between Russia and Ukraine remains unknown.
LISTEN
Listen to the complete panel discussion (about 90 minutes):
Real Audio Windows Media
RELATED ARTICLES