Militants Claim To Have Shot Down Russian Helicopter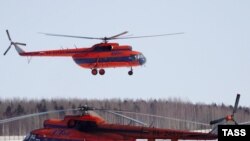 Mi8 helicopters (file photo) (ITAR-TASS) September 13, 2006 -- Islamist militants in North Ossetia say they shot down a Russian military helicopter that crashed on September 11, killing 11 servicemen.
A group calling itself the Ossetia Jamaat made the claim in a statement posted on September 13 on a separatist Chechen website.
The group said they shot down the helicopter with a shoulder-fired anti-aircraft missile after receiving intelligence about who was on board and the route of the flight.
The Mi-8 helicopter was transporting high-ranking officers when it crashed near Vladikavkaz.
Prosecutors in North Ossetia said they had no previous knowledge of the group.
The Russian military has said the helicopter crashed after it flew into a cloud and the pilot apparently lost control. But prosecutors said investigators were looking into all possible causes, including a possible attack by militants.
(chechenpress.info, lenta.ru, Ekho Moskvy)


UPDATED CONSTANTLY: Visit RFE/RL's Russian-language website, featuring news, analysis, features, streaming audio, and more, in Russian, from RFE/RL's Russian Service.
ARCHIVE
RFE/RL's English-language
coverage of Russia
.