Founded in 1961, NAM aimed to act as a counterweight to Western states and the Soviet bloc when most nations were being pressured to take sides in the Cold War. Its founders included heroes of the anticolonial struggle in Asia and Africa.
Those times are long gone, but NAM continues. In fact, it appears to be thriving, with more than 50 heads of state due in Havana this week -- including Iranian President Mahmud Ahmadinejad and Venezuelan President Hugo Chavez.
"Third World countries...have to sit down and think about the way they are going to relate to
developed countries."
In fact, with 116 countries, the Cold War organization has more members than ever. And the rhetoric at its summits remains fiery.
"We meet after the brutal aggression against our brothers in Lebanon and we indignantly watch the daily genocide to which the Palestinian people are subjected," Cuban Foreign Minister Felipe Perez Roque said at the opening ceremony in Havana on September 11.
"Our summit takes place at the same time that Iran is under increasing pressure as it exercises its rights to pursue a peaceful nuclear program and when other nonaligned countries are threatened by preventive war and aggression," Perez Roque continued.
Substance Behind The Oratory?
As evidenced by Perez Roque's speech, NAM's leaders appear to want to redefine their mission, to focus on current issues -- among them the Middle East crisis and Iran's nuclear standoff with the West.
The United States and its allies, and their war on terror, have now become a target.
The summit gives some of Washington's main adversaries, like Venezuela's Chavez, Iran's Ahmadinejad, and Syrian President Bashar al-Assad a platform to voice their anger -- and to compare notes.
Chavez, in particular, who has been traveling the world making oil deals and seeking allies in his campaign against the Bush administration, is expected to be the star of the show.
No More Than A Soapbox
"What Chavez is looking for, is some extension of his [leftist] movement in Latin America and gaining leverage in other parts of the world -- and Iran is one area he sees where he might step in and bolster the regime, at least rhetorically," says Kirk Bowman, a specialist on Latin America at the Georgia Institute of Technology.
"Chavez really likes to go into places that are having battles or feuds with the U.S. and step in as some other alternative," Bowman continues. "And so this is his stage."
But Bowman does not expect anything of substance to emerge from Havana -- for two main reasons. First, he says, the NAM continues to define its mission primarily in negative terms. It stands against a lot of things but has few positive alternatives to offer. Secondly, he argues, its members are so diverse that they don't share much in common, aside from a temporary hostility to U.S. policy
"It's really hard to see what the movement stands for, except for this anti-American hegemony. They have a host of interests that are not 'aligned' themselves," he says. "And so, to try to have the countries of Africa, which in the past have had very strong membership and leadership in the Nonaligned Movement -- to have their interests and the interests of Mr. Chavez -- align, is very difficult to see. I see that on the surface there will be a lot of anti-American rhetoric coming out of the meetings and some photo opportunities, which might give the signs of a strong alignment of interests and perhaps [appear to indicate] a rebirth of the Nonaligned Movement. But beneath the surface, many of the countries that participate will be less than enthusiastic."
'Antiglobalization Movement'
That's not the view from Zimbabwe, a former chair of the NAM, whose leaders currently find themselves ostracized in the West. Donald Chimanikire, who heads the Institute of Development Studies at the University of Zimbabwe. argues that many of the countries represented in the NAM do share a common interest, and it's economic.
"For the past five years, the issue of terror has been in the forefront, especially for the U.S.A. and the U.K.," Chimanikire says. "And that has definitely somehow marginalized issues relating to economic development for Third World countries."
Chimanikire says a lot of the hostility toward the West in the developing world is caused by what are seen as unfair trading rules that benefit multinational businesses and agricultural producers.
Third World countries are being pushed to open their markets, but getting few concessions from Europe and the United States in return, he says. And that will only change, he argues, if the developing world makes common cause -- using forums like the NAM.
"Third World countries need to tackle issues which they are facing because of globalization, Chimanikire says. "OK, the rhetoric might be there, but Third World countries, ACP [African, Caribbean, and Pacific] countries, have to sit down and think about the way they are going to relate to developed countries. Because I don't see how the Third World countries are going to manage if Third World countries are not able to negotiate fair deals."
Whether Chimanikire and many others in the developing world will get their wish remains unclear.
Leading Cuban dissident Elizardo Sanchez on September 12 criticized NAM leaders, saying they should focus on advancing democracy and human rights in their own countries, instead of wasting their time on empty rhetoric.
In any case, the rhetoric certainly makes for a livelier summit than most international gatherings.
All eyes will also be on Havana to see whether ailing Cuban leader Fidel Castro emerges for the first time since his hospitalization, to address summit participants.
Avoiding International Isolation
Avoiding International Isolation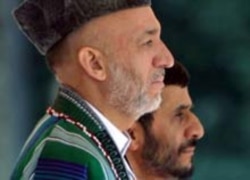 Afghan President Hamid Karzai (left) with Iranian President Mahmud Ahmadinejad in Tehran on May 27 (epa)
DIPLOMATIC OFFENSIVE:
As the United States and the European Union increase pressure on Iran regarding its nuclear program, Tehran has launched a wide-ranging and ambitious diplomatic offensive, including high-level state visits with countries including China, Indonesia, Afghanistan, Azerbaijan, and Pakistan. In May, Iranian President Mahmud Ahmadinejad participated in a high-profile
summit of the so-called Developing 8 (D8) group
of countries in Bali. Below are some links to RFE/RL's coverage of Iran's efforts to boost international support for its position.
Tehran's Shanghai Plans Seen As Bold Geopolitical Stroke
Nonaligned Movement Expresses Support For Iran
Afghan, Iranian Presidents Tout Strong Historical Ties
Iranian Foreign Minister In Pakistan For Energy Talks
Iranian Foreign Minister Visits Baghdad
ARCHIVE
To view all of RFE/RL's coverage of Iran, click here.

THE COMPLETE STORY: RFE/RL's complete coverage of controversy surrounding Iran's nuclear program.