French politician Marie Anne Isler Beguin is a member of the European Parliament (MEP) and the chairwoman of the South Caucasus parliamentary delegation. She spoke with RFE/RL Georgian Service correspondent Nino
Gelashvili in Tbilisi on September 12.
RFE/RL:
How was your visit to South Ossetia? What were the main topic of your talks with Kokoity, if it's not a secret?
Marie Anne Isler Beguin:
No, no, no. It's absolutely not a secret, because all the journalists were around us during the meeting. Nobody asked if it was secret or not. But I think the message that we have to deliver from the European Union and the European Parliament is very clear --- we don't want any escalation of the violence. The European Parliament and the European Union will never, ever accept a military option to resolve frozen conflicts like the one in South Ossetia, and that is the message that we are delivering. And we put a lot of questions to Kokoity, to find out why this peace plan isn't making much progress.
RFE/RL:
On September 11 he announced that South Ossetia will hold an independence referendum in November. Did you talk about that as well?
Isler Beguin:
Yes, of course. It was his first announcement, that on November 12 he will have a referendum. But that was a question I asked -- what does this mean, a referendum like this in a region where 80 percent of the population holds Russian passports? Is it a South Ossetian population or a Russian population that is demanding to decide its future? I also said that everybody has to look at what's happening around the world. The European Union is now 25 countries, going on 27. It's difficult to resolve social and economic problems in big, rich countries. So what would the future be for such a little country? They also have to reflect on this, for the sake of their own population.
RFE/RL:
What should the role of the EU be in the South Caucasus conflicts, particularly in Georgia? Do you think the EU should accept the proposal by the Georgian government that it, like Russia, becomes a party to conflict-resolution negotiations?
Isler Beguin:
As the delegation involved in the South Caucasus region, we would like our EU special representative [Peter Semneby] to be much more active in conflict resolution. But as you know, the coordination between the Council of Europe, the European Commission, and the European Parliament is complicated. We pushed to integrate the three countries here into the European Neighborhood Policy. That was a success. But Mr. Semneby's current road map is not sufficient. But that is the will of the council, and that is the problem, because we are not directly involved in the resolution. But now Mr. Semneby also has to participate, and we hope that he'll be much more active.
RFE/RL:
The European Parliament did initiate the plan to include the South Caucasus countries into the European Neighborhood Policy. You and your colleagues later prepared a draft declaration on giving these countries the opportunity to become EU-membership candidates. But you haven't received a lot of general support on that issue.
French politician Marie Anne Isler Beguin (RFE/RL)You know, after the French and the Dutch referendums [rejecting the EU draft constitution], everybody was very shocked. I think that we simply didn't do a good enough job explaining what enlargement will mean for the European Union. And one day the French people discovered that we were not 15 but 25 states, and it seems that they were afraid of what this new Europe would do. We didn't do enough to prepare people. And that's why we really have to teach our citizens what Europe is, to discover Europe, and to understand that there are people beyond the Black Sea who are also European citizens who can integrate. I'm sure that it isn't possible for three countries like Azerbaijan, Armenia, and Georgia to live alone between two big countries like Russia and Turkey. If Turkey enters the EU, of course these three countries will also enter one day. When, we don't know, but it's definitely in the future." Isler Beguin:
RFE/RL:
Why do you think it's important for the European Union that the conflicts in the South Caucasus are solved?
Isler Beguin:
We can see that all the conflicts in the world are regional conflicts. And here we have a situation with a frozen conflict, but a frozen conflict with deaths. Every month we can see that people are killed. It's not that frozen. And that's why we have a responsibility, because these countries asked Europe to help them, and we have the responsibility to help resolve this conflict. I can't understand why the European Union and the council aren't much more involved in resolving the conflict, or why they don't ask the United Nations to resolve the conflict and bring agreements between the different regions.
RFE/RL:
Once you noted that there is a double standard in the EU's relationship with Russia. Is it possible that the EU will someday ask Russia to answer for its activities in the conflict zones?
Isler Beguin:
It could be simple. But nothing is simple, and that is politics. Of course, when the European Parliament asked about how people in Abkhazia and South Ossetia happened to get Russian passports, we got no answer. We asked for this question to be introduced into the negotiations between the European Union and Russia. But the negotiations take place between politicians from the council and from the state of Russia. We have to push it onto the agenda, and that's what we're doing.
Universal Principles?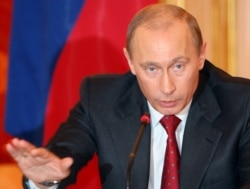 President Putin at a Kremlin meeting in April (epa)
PUTIN SPEAKS OUT: During a January press conference, Russian President Vladimir Putin said there is a need for "universal principles" to settle "frozen" conflicts in the CIS. His comments came against the background of impending talks on the future status of Kosovo, which many predict will grant it a form of "conditional independence" from Serbia and Montenegro. As an ally of Serbia, Moscow has consistently opposed the idea of Kosovar independence. Putin's remarks suggest he may be shifting his position, but only if the principles applied to Kosovo are also applied to frozen conflicts in the former Soviet Union. If Kosovo can be granted full independence, he asked, why should we deny the same to Abkhazia and South Ossetia? (more)
RELATED ARTICLES
Putin Calls For 'Universal Principles' To Settle Frozen Conflicts
Russia Key To OSCE's Attempts To Resolve Frozen Conflicts
Georgia Pushes For EU Backing In Standoffs With Russia
ARCHIVE
Click here to view archives of RFE/RL's coverage of the conflicts in Abkhazia, Chechnya, Kosovo, Nagorno-Karabakh, Ossetia, and Transdniester.