Speaking on a visit to the West African nation of Senegal, Ahmadinejad said Iran was ready for what he called "new conditions" regarding the nuclear issue, but gave no details.
"We favor dialogue and negotiation, and we believe that we can resolve the problem together in a context of dialogue and justice," Ahmadinejad said.
He said, however, that he did not believe Iran would be hit with United Nations sanctions over its refusal to halt uranium enrichment, saying there is "no reason" for sanctions.
He said Tehran has many times expressed and announced its position regarding the nuclear issue, and that its position has not changed.
Meanwhile, U.S. Secretary of State Condoleezza Rice said in Washington on September 13 that the postponement of a meeting between Iran and the European Union suggests Iran is not interested in accepting international demands to halt uranium enrichment.
Rice spoke after officials said a meeting, planned for today, between EU foreign policy chief Javier Solana and Iranian nuclear negotiator Ali Larijani had been postponed.
Officials said lower-level Iranian and EU officials would instead meet in Paris.
(compiled from agency reports)
What The Street Thinks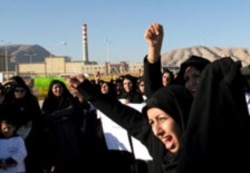 A demonstration in support of Iran's nuclear program outside the Isfahan uranium-conversion facility in Isfahan in January (epa)

IRANIANS SPEAK OUT ON THE DISPUTE: To find out more about what Iranians think about the international controversy over their country's nuclear program, RADIO FARDA asked listeners to express their views....(more)
See also:
Iran: Public Has Mixed Feelings On Nuclear Issue

THE COMPLETE PICTURE: RFE/RL's complete coverage of controversy surrounding Iran's nuclear program.
CHRONOLOGY
An annotated timeline of Iran's nuclear program.