They said most bore signs of torture and had gunshot wounds to the head.
Since September 13, more than 100 bodies have been discovered in the Iraqi capital, most of them shot execution-style.
The U.S. military says there has been a spike in Baghdad's murder rate this week.
Meanwhile, the military said four U.S. soldiers were killed during the past 24 hours in Iraq. One soldier was killed during operations in Al-Anbar Governorate, while the other three died in separate car-bomb explosions.
(AFP, Reuters, dpa)
Sectarian Iraq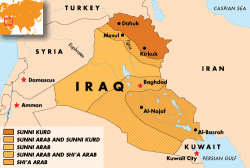 Click to enlarge the image.
SUNNI, SHI'A: Iraq is riven along sectarian lines, faults that frequently produce violent clashes and are a constant source of tension. Sectarian concerns drive much of Iraqi politics and are the main threat to the country's fragile security environment.


THE COMPLETE PICTURE: Click on the image to view RFE/RL's complete coverage of events in Iraq and that country's ongoing transition.