U.S. Pulls Back From Al-Anbar To Secure Baghdad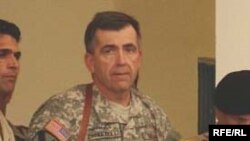 Lieutenant General Peter Chiarelli (file photo) (RFE/RL) September 15, 2006 -- A senior U.S. commander said today that the effort to subdue Sunni insurgents in Al-Anbar Governorate has become secondary to the "main effort" of securing Baghdad to avert civil war.
Lieutenant General Peter Chiarelli, the No. 2 U.S. general in Iraq and the top operational commander, acknowledged that commanders have siphoned troops from Al-Anbar, weakening the military's strength there, to build up the U.S. presence in Baghdad.
Commanders are seeking to curb sectarian violence in Baghdad between Shi'ite and Sunni Muslims.
(Reuters, AP)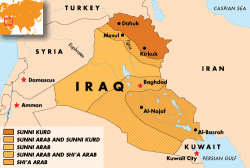 Click to enlarge the image.
SUNNI, SHI'A: Iraq is riven along sectarian lines, faults that frequently produce violent clashes and are a constant source of tension. Sectarian concerns drive much of Iraqi politics and are the main threat to the country's fragile security environment.


THE COMPLETE PICTURE: Click on the image to view RFE/RL's complete coverage of events in Iraq and that country's ongoing transition.