At Least 18 Reported Killed In Iraq Attacks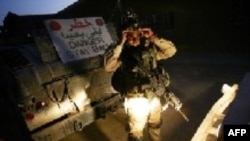 U.S. troops on patrol in Baghdad (file photo) (AFP) August 17, 2006 -- At least 18 people were reported killed in attacks around Iraq today, including seven by a car bomb in a Shi'ite neighborhood of Baghdad, Al-Sadr City.
Another six people were killed in a string of shootings in and around Ba'qubah, in central Iraq. Three of the dead were brothers who owned an agricultural equipment shop. Another was a salesman at the shop.
In the town of Al-Muqdadiyah, northeast of Ba'qubah, three people died in a mortar and roadside bomb attack on a market. Two policemen were among the 20 wounded.
Police said five bodies, two them headless, were also pulled out of the River Tigris, near the town of Al-Suwayrah, southeast of the capital.
Earlier, the U.S. military today announced that another of its troops has been killed in the western Iraqi province of Al-Anbar, on August 16. So far this month, at least 10 U.S. soldiers have been killed in Al-Anbar Province, which borders Syria.
(compiled from agency reports)

SUBSCRIBE For weekly news and analysis on Iraq by e-mail,
subscribe to "RFE/RL Iraq Report."