Yanukovych's NATO Comments Anger Yushchenko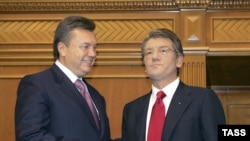 Ukrainian Prime Minister Viktor Yanukovych (left) and President Viktor Yushchenko (file photo) (ITAR-TASS) September 15, 2006 -- President Viktor Yushchenko today said that his prime minister's statement that Ukraine should move more gradually in its bid to join NATO is "wrong, does not meet national interests, and must be corrected."
Speaking at NATO headquarters in Brussels on September 14, Prime Minister Viktor Yanukovych said that Ukraine lacked enough popular support to move toward membership of the alliance.
Ukrainian Defense Minister Anatoliy Hrytsenko also criticized Yanukovych, calling Yanukovych's comments "groundless, illogical, and simply wrong."
Hrytsenko is an ally of pro-Western President Viktor Yushchenko. Yanukovych supports closer links with Russia.
(Reuters, dpa, AFP, "Ukrayinska pravda")

RFE/RL Belarus, Ukraine, And Moldova Report

SUBSCRIBE For weekly news and analysis on Belarus, Ukraine, and Moldova by e-mail,
subscribe to "RFE/RL Belarus, Ukraine, And Moldova Report."