World Bank Stresses Accountability, Transparency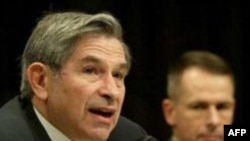 Paul Wolfowitz (file photo) (AFP) September 18, 2006 -- World Bank President Paul Wolfowitz says accountability and transparency are essential to accelerating economic growth and fighting poverty.
Since Wolfowitz took over as president last year, the World Bank has suspended more than $1 billion in funding for projects in Africa and Asia because of allegations of corruption.
Wolfowitz was speaking today in Singapore, a day before the annual meeting of the International Monetary Fund and the World Bank.
(AP)