Suspected Militants Arrested In Kyrgyzstan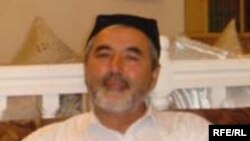 Tensions in Kyrgyzstan have risen since August, when the security forces killed Imam Rafiq Qori Kamoluddin, who permitted members of Hizb ut-Tahrir to worship in his mosque. (RFE/RL) September 18, 2006 -- Kyrgyzstan's National Security Service (SNB) says it has arrested three suspected members of the radical religious group Hizb ut-Tahrir in the eastern town of Balikchi.
The SNB says the three were found in possession of extremist religious literature and audiotapes, knives, and live ammunition.
It says one of the detainees has confessed to being an active member of the banned religious grouping.
(24.kg)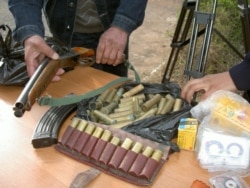 Arms and leaflets allegedly confiscated from Hizb ut-Tahrir members in Kyrgyzstan in May (RFE/RL)

ATTRACTIVE TO THE YOUNG: It is virtually impossible to estimate the size or composition of Hizb ut-Tahrir's membership in Central Asia, because the controversial movement is banned in most places. But some observers say anecdotal evidence suggests the group's core of younger members is growing....(more)
RELATED ARTICLES
Russia Approves List Of 17 'Terrorist' Groups
Extremist Threats, And Doubts, In Kyrgyzstan, Tajikistan
Hizb Ut-Tahrir's Calls For Islamic State Find Support
Hizb Ut-Tahrir Challenges Britian's Proposed Ban
Lone Islamic Party Pursues Dual Path In Tajikistan

A thematic webpage devoted to issues of religious tolerance in RFE/RL's broadcast region and around the globe.