They say the man, identified as Abdurahim Tuhtasinov, was detained in the eastern city of Namangan and sent to Tashkent under police escort.
In neighboring Kyrgyzstan, authorities say a member of yet another banned group, Akromiya, was arrested on August 22 in the southern region of Osh.
Regional police say Qurbanali Sabirov, an ethnic Uzbek, was found in possession of weapons, ammunitions, and religious literature.
They also say Sabirov and his brother Muydin, who was arrested last year in Uzbekistan, are suspected of taking an active part in antigovernment protests in the Uzbek city of Andijon in May 2005. The unrest led to a government crackdown in which Tashkent acknowledges 187 people were killed. Independent observers put the number of casualties significantly higher.
(gorizont.uz, AKIpress)

Hizb Ut-Tahrir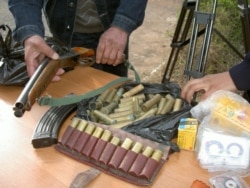 Arms and leaflets allegedly confiscated from Hizb ut-Tahrir members in Kyrgyzstan in May (RFE/RL)

ATTRACTIVE TO THE YOUNG: It is virtually impossible to estimate the size or composition of Hizb ut-Tahrir's membership in Central Asia, because the controversial movement is banned in most places. But some observers say anecdotal evidence suggests the group's core of younger members is growing....(more)
RELATED ARTICLES
Russia Approves List Of 17 'Terrorist' Groups
Extremist Threats, And Doubts, In Kyrgyzstan, Tajikistan
Hizb Ut-Tahrir's Calls For Islamic State Find Support
Hizb Ut-Tahrir Challenges Britian's Proposed Ban
Lone Islamic Party Pursues Dual Path In Tajikistan

A thematic webpage devoted to issues of religious tolerance in RFE/RL's broadcast region and around the globe.