Uzbekistan's pro-government press-uz.info website today quotes an official with the Prosecutor-General's Office as saying the five face terrorism-related charges.
The official singles out one of the returnees, Rasuljon Pirmatov, as being an "active member" of Akramiya, an organization allegedly linked to the banned Hizb ut-Tahrir radical religious group.
The official says investigators have evidence that Pirmatov and another three returnees - Jahongir Maqsudov, Yoqub Toshboev, and Odiljon Rahimov - took part in the Andijon popular uprising.
All five returnees fled to Kyrgyzstan after Uzbek troops violently reasserted control over Andijon in May 2005.
They were arrested shortly after and jailed in the southern Kyrgyz city of Osh.
Although four of them were granted international refugee status and one was recognized as an asylum seeker by the UN refugee agency (UNHCR), Kyrgyzstan on August 9 sent them back to Uzbekistan.
In comments made to press-uz.info, pro-government Uzbek political expert Aktam Zhalilov accuses the UNHCR and "some" foreign states of exerting pressure on Kyrgyzstan not to extradite the five.
The UNHCR, the Organization for Security and Cooperation in Europe (OSCE), the European Union's Finnish presidency, the U.S. State Department, and a number of prominent Western rights groups have criticized Kyrgyzstan's extradition order, saying it violates the 1951 UN Convention on Refugees.
Andijon Refugees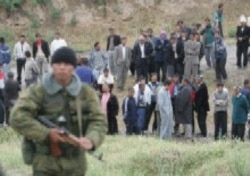 Uzbek refugees in Kyrgyzstan on May 19, 2005 (epa)


NO PLACE TO GO: More than 400 Uzbeks who fled in panic in the hours and days after troops opened fire on demonstrators in Andijon one year ago have been granted political asylum outside Central Asia. In limbo for weeks in Kyrgyzstan as they and the world tried to come to grips with the bloody events of May 12 and 13, they feared for their lives and the lives of family members as the official crackdown continued.... (more)
RELATED ARTICLES
Andijon Refugees In Romania Have Escaped Violence, But Not Heartache
Refugees In Romania Await Decision On Destination
Refugees Want To Return Only If Regime Changes


THE COMPLETE STORY: A dedicated webpage bringing together all of RFE/RL's coverage of the events in Andijon, Uzbekistan, in May 2005 and their continuing repercussions.
CHRONOLOGY
For an annotated timeline of the Andijon events and their repercussions, click here.