Kyrgyz media today quote a SNB statement as saying those who would refuse to disarm would be "harshly punished."
The statement says the call is primarily addressed to members of the banned Hizb ut-Tahrir and Islamic Movement of Uzbekistan -- also known as the Islamic Movement of Turkestan -- radical Islamic groupings.
An August 19 report by Russia's Interfax news agency says the SNB is offering 100,000 soms ($2,500) to any one who would help locate underground militants.
Kyrgyz authorities a few weeks ago launched a large-scale security operation they say is aimed at uprooting Islamic groupings in the country's south.
Rights groups and opposition leaders have accused the government of cooperating with Uzbek security services in the fight against religious dissent.
Kyrgyzstan on August 9 deported to Uzbekistan four UN refugees and one asylum seeker who were wanted in their home country for their alleged participation in the May 2005 Andijon unrest.
The move drew harsh international criticism.
(24.kg, Bely parakhod, Interfax)
Hizb Ut-Tahrir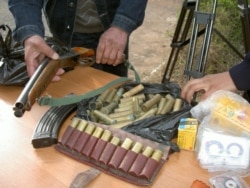 Arms and leaflets allegedly confiscated from Hizb ut-Tahrir members in Kyrgyzstan in May (RFE/RL)

ATTRACTIVE TO THE YOUNG: It is virtually impossible to estimate the size or composition of Hizb ut-Tahrir's membership in Central Asia, because the controversial movement is banned in most places. But some observers say anecdotal evidence suggests the group's core of younger members is growing....(more)
RELATED ARTICLES
Russia Approves List Of 17 'Terrorist' Groups
Extremist Threats, And Doubts, In Kyrgyzstan, Tajikistan
Hizb Ut-Tahrir's Calls For Islamic State Find Support
Hizb Ut-Tahrir Challenges Britian's Proposed Ban
Lone Islamic Party Pursues Dual Path In Tajikistan

A thematic webpage devoted to issues of religious tolerance in RFE/RL's broadcast region and around the globe.