PRAGUE, August 28, 2006 (RFE/RL) -- Fifteen years after gaining independence from the Soviet Union, Uzbekistan has what some experts refer to as a notorious reputation.
Bahodir Musaev, an independent sociologist, spoke to RFE/RL from Tashkent. He said: "Fifteen years after declaring independence, we find ourselves behind the starting point, in a deadlock, if not in a complete social catastrophe. The most obvious example is our neighbor Kazakhstan. In 1991, Uzbekistan and Kazakhstan were at the same point. Today, there is a huge gap between them [in democratic and economic development]."
"This internal policy of using violence amid the absolute poverty of people will create a huge social base for terrorism."
Falling Behind
Uzbekistan seems to trail not only Kazakhstan -- which is now Central Asia's wealthiest country -- but others as well.
Craig Murray, a former British ambassador to Tashkent and a fierce critic of President Karimov's regime, tells RFE/RL that in the fight against dissent, the Uzbek regime is the most brutal among all Central Asian countries and even harsher than Turkmenistan.
"I think the violence is worse in Uzbekistan," Murray said. "More people are tortured by the regime than in Turkmenistan. Certainly the repression has increased ever since [the May 2005 violence in] Andijon. There are successive trials of both opposition people and religious people, sometimes in quite large groups. And the scale of political attacks seems to be increasing [in Uzbekistan]."
While the Uzbek government has strengthened repression against political and religious opponents, it has also shut down or squeezed out many foreign nongovernmental organizations (NGOs) and humanitarian groups.
The most recent case of an NGO's imminent closure came today. Authorities accused the Massachusetts-based Partnership in Academics and Development (PAD) of proselytizing among Uzbeks. PAD says it has helped Uzbek university professors with new textbooks and assisted them in expanding contacts with academics in the international community.
As a result of its anti-NGO policy, the portion of Uzbek civil society supported by foreign aid groups has almost disappeared.
Meanwhile, authorities continue to strictly control local media, and foreign journalists have been forced to leave the country amid harassment and intimidation.
Fierce Repression
Opposition party members and human rights activists have been either jailed or forced to exile.
Bakhtiyor Hamroev, one of the few human rights activists still working in the country, was injured on August 18 in his apartment by a large group that beat him -- in the presence of British diplomats and with police watching.
Another rights activist, publicist Motabar Tojiboeva, who is serving a prison term, is reportedly being ill-treated and tortured in jail.
The situation in the economic sphere does not seem to be any better. And foreign investors have become a target of government pressure.
Earlier this month, authorities announced the bankruptcy of Zarafshan-Newmont, a U.S.-Uzbek joint venture, and froze its assets and confiscated gold.
Earlier this month, reports said authorities had revoked the license of Britain's Oxus Gold PLC, preventing it from continuing to develop a high-grade zinc, silver, copper, lead, and gold deposit in the country.
On August 24, Uzbekistan stripped an Uzbek-Israeli joint venture of its exclusive rights to process a strategic metal (molybdenum concentrate) produced by the state-owned Almalyk Mining and Metallurgical Combine.
Uzbekistan's Future
Experts say these are signs of the regime getting more desperate as opposition among the people grows stronger.
The question is: where is Uzbekistan heading and what options do the people have before them? Murray says a popular upheaval is imminent.
"At the moment, Uzbekistan, undoubtedly is heading into further political and economic isolationism," he said. "And things are simply going to get worse. You can keep people managing to just live at a very low level and you can keep the very wealthy people and President Karimov still managing to steal huge amounts of money from the economy provided that [currently high] gold and cotton prices maintain and the regime keeps its grip on power. But ultimately that's going to lead to violent upheaval."
Musaev agrees and says the country is in agony.
"The country has already entered the period of troubles," he said. "Potential for protest has been growing, there will be social collapses -- local, regional, and then bigger ones. The country had already become unmanageable. It is held together only by fear -- by rubber truncheons and bayonets."
Creating Radicals?
Many Uzbeks are trying to find an escape. Some leave the country. Others find consolation in religion: membership in Hizb ut-Tahrir, the banned Islamic religious group that offers to create a caliphate, or an Islamic state, as an alternative to the current system, has reportedly been growing in membership despite the authorities' brutal repression.
Michael Hall, the director of the International Crisis Group's Central Asia Program, says political instability, growing unemployment and corruption, as well as repression against dissent contribute to the popularity of radical ideologies. He says the Uzbek government has to change the political and economic situation if it wants to change this trend.
"I think to a large extent, it does depend on the government's policies," Hall said. "Allowing, for example, for greater freedom of discussion, allowing for greater independence from the state of religious institutions, I think this certainly can help. I think there are other aspects of the problem, too. One simple fact: a large number of Hizb ut-Tahrir members are young people. Young people very often don't have much to occupy their time with. The educational system is being underfunded and in some places is inadequate."
Musaev believes the current regime is unlikely to voluntarily begin making reforms. He says Karimov is not willing to give up power and the only way that will happen is to change the whole political system.
"The political system needs to be dismantled," Musaev said. "The regime is going to maintain itself only on [declarations of] the necessity to provide national and regional security. But objectively, this internal policy of using violence amid the absolute poverty of people will create a huge social base for terrorism. And it won't be Islamic at all, just [take] one demographic factor -- people who have no jobs. Karimov's political regime is a complete failure."
Hizb Ut-Tahrir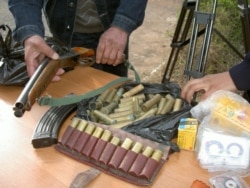 Arms and leaflets allegedly confiscated from Hizb ut-Tahrir members in Kyrgyzstan in May (RFE/RL)

ATTRACTIVE TO THE YOUNG: It is virtually impossible to estimate the size or composition of Hizb ut-Tahrir's membership in Central Asia, because the controversial movement is banned in most places. But some observers say anecdotal evidence suggests the group's core of younger members is growing....(more)
RELATED ARTICLES
Russia Approves List Of 17 'Terrorist' Groups
Extremist Threats, And Doubts, In Kyrgyzstan, Tajikistan
Hizb Ut-Tahrir's Calls For Islamic State Find Support
Hizb Ut-Tahrir Challenges Britian's Proposed Ban
Lone Islamic Party Pursues Dual Path In Tajikistan

A thematic webpage devoted to issues of religious tolerance in RFE/RL's broadcast region and around the globe.