RFE/RL:
Mr. Ellison, congratulations on your election victory. Why do you think you received more votes than your opponents in the Democratic Party primary?
Ellison:
Well, because we reached out to a broad, diverse cross-section of our community and we included a wide array of people of all colors and all religions and we brought them together behind a progressive agenda of peace and universal health-care coverage.
RFE/RL:
What is your position on the war in Iraq -- and the growing calls for U.S. troops to withdraw?
Ellison:
I oppose the Bush policy. I believe that we never should have entered Iraq. I was an ardent supporter of peace before the invasion of Iraq and I remain in that position now. And I believe we need to bring the troops home and engage the partisan factions diplomatically in Iraq, to try and bring about real peace for the Iraqi people.
RFE/RL:
What do you think of President George W. Bush's approach to foreign policy, in general? Do you feel the situation in the Middle East -- and the West's relationship with the Islamic world -- is more or less stable now than before the war?
Ellison:
I think that the United States needs more friends, not less. And I think the Bush policy has created more animosity toward the United States and I think we need to begin a policy where we begin to win friends, as opposed to what the Bush administration is doing.
RFE/RL:
You are a Muslim, but you converted from another faith. Can you tell me when you made that decision, and why?
Ellison:
Well you know, I grew up Catholic, my family is still Catholic. When I was 19 years old on the university campus I met some people who were Muslim, and we began to talk about faith and values and religion, and they invited me to Friday Juma khutba [prayer meeting] and I liked what I heard, and I've been a Muslim ever since.
RFE/RL:
You are currently a state legislator in Minnesota. Has your Muslim faith affected how you do your job?
Ellison:
My faith helps me to be a kind person, a generous person, [and] helps me to face adversity bravely. Hopefully, my faith helps me to reach out to people and seek out common humanity and try to look out for the least of thee and the poor and the homeless, so that's the impact it has on me.
RFE/RL:
What is your response to people who say that Islam and secular democracy are incompatible?
Ellison:
Well, I mean, it's ridiculous to believe such a thing -- there's ample evidence in the Koran and the sunna of the Prophet to show that decision making that draws upon what the people want -- the will of the people, and the will of the people affected is what we should be doing.
So I think that democracy and Islam are, as a matter of fact, very compatible, and I think Muslims should engage in the communities that they live in politically, and express their will through the ballot box, and freedom of expression. And I think that the countries that they live in should look to them as a source of help for the country, Muslims have a lot to contribute to society.
RFE/RL:
If you win in November you will be the first Muslim member of the U.S. Congress. Do you think that fact will make you stand out among the other legislators?
Ellison:
Well honestly, I haven't given it a lot of thought. I've been focusing on what we all share. In America we have 47 million people who don't have health care. I'm worried about that. We're in a war that we should have never gotten into. And I'm worried about how to get us out of it. Our civil liberties are threatened, and our president has [suggested that he] condones torture, and I'm very concerned about that.
So my own faith and my personal profile is not something I have focused on quite a bit, because what we really need to do is come together around the things that we all share, and that we all need, like health care, like peace, like civil liberties, like economic justice -- that's really what it's about.
RFE/RL:
But your status will make you unique -- already there is massive media attention surrounding your primary win. Don't you see yourself in some sort of special role, perhaps going abroad as a peace ambassador from the West to countries America has alienated?
Ellison:
I haven't thought about it. I mean, it's possible, but it's just not on my agenda. My agenda is helping the people of the 5th Congressional District, pulling people of all faiths together: Jewish, Christian, Muslim, Hindu, Buddhist, all faiths -- around an agenda that elevates the average working man and woman. That's what I'm talking about. Now, my own particular profile may or may not help the situation [in the Middle East] but I'm focused on what the people need.
Islam In A Pluralistic World
Islam In A Pluralistic World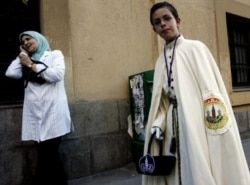 A Muslim woman (left) watches a Christian procession in Madrid in March (AFP)


READ
CONFERENCE ON ISLAM:
A major international conference on Islam concluded in Vienna in November 2005 with strong appeals from prominent Muslim leaders to recognize international terrorism as simply "terrorism." Political figures from Islamic countries, including the presidents of Iraq and Afghanistan, argued that it should never be labeled "Islamic" or "Muslim" terrorism because Islam is based on peace, dialogue, and tolerance. "Salaam" -- meaning "peace" -- was the key word of the three-day conference, titled "
ISLAM IN A PLURALISTIC WORLD
."
Iraqi President Jalal Talibani and Afghan President Hamid Karzai used the word in their remarks to emphasize the peaceful nature of Islam. Other speakers quoted passages from the Koran to the effect that all men and women, regardless of faith, are creatures of God and should live in peace with each other without discrimination
...(more)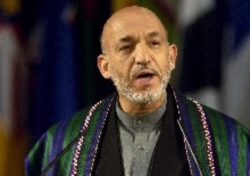 LISTEN
Listen to Afghan President
HAMID KARZAI
's complete address to the Vienna conference (in English):
Real Audio
Windows Media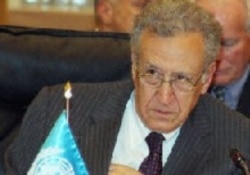 LISTEN
Listen to UN special envoy
LAKHDAR BRAHIMI
's complete address to the Vienna conference (in English):
Real Audio
Windows Media
THE COMPLETE PICTURE:
Click on the image to view a thematic webpage devoted to issues of religious tolerance in RFE/RL's broadcast region and around the globe.