PRAGUE, September 18, 2006 (RFE/RL) -- The annual IMF meeting formally opens on September 19, but even before it gets under way, the gathering in Singapore has already seen one of the biggest reforms since the institution was founded more than 60 years ago.
The 184 IMF member states today voted to increase the voting weights of emerging giants like China, a change which will dilute the traditional Western dominance of the IMF.
"Poverty doesn't wait, poor people are dying, and if the rich countries are slow in delivering on their promises, then [poor countries] are going to have to look around for finance from other sources."
Giving China And Others Their Due
Until now, Beijing has had fewer votes than Belgium, despite having the third-biggest economy in the world after the United States and Japan. The planned reform will increase China's membership subscription, thus automatically boosting its quota of the vote. It's not yet clear how many votes Beijing will receive.
Turkey, Mexico, and South Korea are also benefiting from the same reform, which in a second stage in 2008 will also see emerging giants like India and Brazil given voting weights reflecting their economic might.
British Chancellor of the Exchequer Gordon Brown, said before the vote that the reform will strengthen the voice of the poor in the IMF.
"The discussion that took place at the committee involved, I think, 20 countries speaking, but the communique is unanimous in saying that the package of reforms, when implemented, will make significant progress in realigning quota shares to members' relative positions in the world economy and, equally important, enhance the participation and voice of [the] low income [countries] in the International Monetary Fund," he said.
Move Praised By NGOs
Antipoverty groups like the British-based Oxfam say the reweighting towards the developing countries is long overdue. Unless the IMF is fundamentally reformed it risks becoming irrelevant to the world economy, says Oxfam representative Salina Shelley.
"It is deeply unfair that the IMF sets economic policies for developing countries but -- by apportioning shares based on dollars -- does not allow them a strong voice in their own destiny," Shelley said.
This was a reference to the strict conditions which the IMF imposes on those countries which it helps financially, conditions which critics say are too harsh and, at least in the short term, drive poorer sections of the population deeper into poverty.
Another antipoverty group, the Jubilee Debt Campaign, takes a line similar to Oxfam's. Jubilee Director Trisha Rogers spoke to RFE/RL from the conference in Singapore.
"We do not believe they [the IMF] should impose economic policy conditions, we think there should be financial accountability and transparency with governments accountable to their own people," Rogers said. "But we don't believe the IMF should impose conditions like privatization, [and] trade liberalization."
Involving China More
But the move to give China and other developing countries more say in the IMF can also be seen as a way of constructively attaching them to the world economic system.
For instance, Western officials, most notably U.S. Treasury Secretary Henry Paulson, have warned against "irresponsible" lending to poor countries which have recently had their official debts forgiven by the international community.
In comments to World Bank officials in Singapore, Paulson did not name which countries are doing the lending. But it's clear China is the leading source of such loans, which are being agreed to without disclosure of repayment conditions and without demands for reforms by the borrower.
World Bank chief Paul Wolfowitz added a word of caution, saying the challenge is to ensure that those countries which were heavily indebted don't borrow "imprudently" and fall back into debt once again.
Criticizing Bad Loans
Paulson said that what's needed is effective incentives or penalties to deter irresponsible lending or borrowing -- a mechanism which would work better if China and other developing countries are more closely integrated as partners of the West inside the IMF.
However, aid agencies express some sympathy for those countries increasingly looking to China for no-strings-attached loans. They say Western aid is often delivered late, and financial support has stringent conditions attached. Rogers of Jubilee again.
"As the finance minister of Niger [in West Africa] said this morning, 'poverty doesn't wait, poor people are dying, and if the rich countries are slow in delivering on their promises, then [poor countries] are going to have to look around for finance from other sources,'" Rogers said.
But the waste and corruption of loan money remains a serious problem, and for China to give loans without guarantees on how the money will be spent would seem likely to increase the possibilities for diversion to the pockets of the corrupt.
China In Central Asia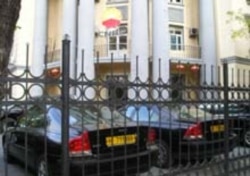 The Almaty,Kazakhstan, office of China's National Petroleum Corporation (RFE/RL)
BEIJING ON THE RISE:
The September 11, 2001, terrorist attacks against the United States prompted Washington to topple the Taliban regime in Afghanistan. At the time, many predicted the United States would gain a new foothold in Central Asia: new U.S. military bases appeared in Kyrgyzstan and Uzbekistan, U.S. foreign aid increased, and much U.S. attention was lavished on the region. Russia and China looked on warily. But the pendulum may be swinging back in Moscow's and Beijing's favor. China, especially, has expended great effort at winning friends in Central Asia and is becoming a force to be reckoned with
....(more)
RELATED ARTICLES
Turkmenistan-China Pipeline Project Has Far-Reaching Implications
Central Asia Looks To Fuel Asia's Economic Boom
The Geopolitical Game In Central Asia
ARCHIVE
To view an archive of RFE/RL's coverage of China, click here.

SUBSCRIBE
For weekly news and analysis on all five Central Asian countries by e-mail, subscribe to "RFE/RL Central Asia Report."