Turkey Warns Against Iraqi Federalism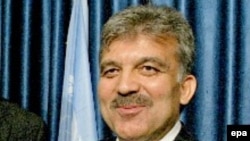 Turkish Foreign Minister Abdullah Gul (file photo) (epa) September 19, 2006 -- Turkish Foreign Minister Abdullah Gul has warned that a federal system in Iraq could break up the country and threaten the stability of the region.
Gul was speaking at the UN General Assembly in New York.
Iraqi Shi'ite, Kurdish and Sunni Arab leaders met on September 18 to discuss a bill on federalism submitted to parliament by the largest Shi'ite bloc, the United Iraqi Alliance.
(AP)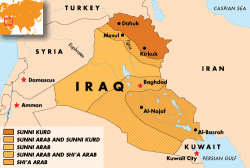 Click to enlarge the image.
SUNNI, SHI'A: Iraq is riven along sectarian lines, faults that frequently produce violent clashes and are a constant source of tension. Sectarian concerns drive much of Iraqi politics and are the main threat to the country's fragile security environment.


THE COMPLETE PICTURE: Click on the image to view RFE/RL's complete coverage of events in Iraq and that country's ongoing transition.