The Office for Strengthening Unity (Daftar-i Tahkim-i Vahdat) says security agents took away all documents and computers.
A spokesman of the group, Abdollah Momeni, told Radio Farda that the move threatens the activities of civil-society groups.
"These illegal actions against critics and human rights defenders threaten the life and security of civil-society organs and political parties, [students] are expressing concern over this situation and they also will protest against it to authorities," Momeni said.
The reformist student group has in recent months warned against the increase of government pressure on student activists.
The group has also called for the release of the leader of its alumni association Ali Akbar Musavi Khoeini, who was arrested in Tehran during a June 12 women's rights gathering.
Women In Iran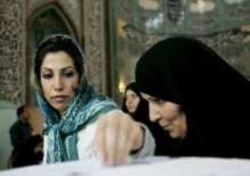 Women in Tehran (epa file photo)

CALLING FOR MORE RIGHTS: Although women played key roles in Iran's 1979 Islamic Revolution, the place of women in post-revolutionary society has been a vexing question. Iranian women have struggled to bring attention to their calls for greater rights in their country's rigid theocratic system, calls that have often clashed with the values proclaimed by conservatives in society. (more)
RELATED ARTICLES
Tehran Police Renew Campaign To Combat 'Un-Islamic' Dress
Iranian Peace Prize Laureate Shirin Ebadi On Women's Rights
Activists Concerned About Self-Immolation Of Iranian-Kurdish Women
The Younger Generation's 'Tehran Blues'
ARCHIVE
RFE/RL's coverage of Iran. RFE/RL's coverage of issues concerning women throughout our broadcast area.

SUBSCRIBE
For a regular review of civil-society developments throughout RFE/RL's broadcast region, subscribe to "RFE/RL (Un)Civil Societies."