NATO To Offer Georgia Membership Talks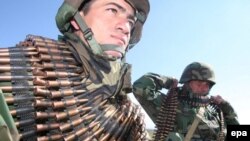 Georgian soldiers in exercises led by U.S. military instructors this March (epa) BRUSSELS, September 19, 2006 (RFE/RL) -- NATO sources have told RFE/RL that the military alliance is to offer Georgia talks on closer ties.
Reuters reported that the offer is to be rubber-stamped on September 21, when NATO foreign ministers meet in New York.
The talks would be Georgia's first step toward membership of NATO, although entry into the alliance would still not be guaranteed.
Since Georgian President Mikhail Saakashvili came to power in 2003, Tbilisi has pushed for closer ties with NATO. Washington has offered its support while Russia has opposed Georgia's potential membership of the alliance.
The offer comes following the visit last week of Georgian Foreign Minister Gela Bezhuashvili to NATO's headquarters in Brussels.