RFE/RL:
What are you doing in parliament?
Magomed Khambiev:
I get hundreds of people coming to ask me to help find their missing relatives. [I would say] 99.9 percent of these people were guilty of nothing. They were either relatives of Chechen fighters or people who, according to hearsay, gave shelter to fighters or fed them. There is no 100 percent guarantee that they'll be found. But there's another thing. I have the addresses, names, and families of the commanders of military units who detained the people we are looking for. It's my task to bring them to trial, in order to force them to say what happened to the people they detained.
RFE/RL:
What is your view of the amnesty, which the Russian authorities are planning to announce? How successful do you think it will be? Do you think many Chechen fighters will respond to it?
Khambiev:
The president and prime minister of Chechnya want fighters to return to their homes in order to ease the situation. They want to improve the situation in Chechnya. I know that they are speaking from their hearts [about the amnesty]. But there has not been a single case since they started to announce the amnesty in which a prosecutor, even at district level, has sat down and explained how this amnesty will work. Not one Russian prosecutor has explained it. So that those who do come in do so exclusively on the basis of trust in the word of [Chechen Prime Minister] Ramzan Kadyrov. They surrender on his guarantee. That's why they're coming in and surrendering their weapons and why the prosecutors are putting the criminal charges against them away in their safes. When they want to, of course, they can just pull them out again. Which is why, to tell the truth, I don't consider this [amnesty] to be serious.
RFE/RL:
You used to be defense minister for Ichkheria. Now you're a member of the pro-Russian parliament of the Chechen Republic. How would you describe the situation in Chechnya? To what extent does it reflect the picture that the Russian authorities are trying to draw?
Khambiev:
To be honest, it would be wrong to say that the situation in Chechnya is really bad. If you compare it with things six, five, four, three years ago, then there have been changes. Among the good things happening here is the construction -- the resurrection of towns and villages. But if the administration of court cases in Chechnya is not put under one roof then there will never be order here. Today, as in 2000, there are Russian military units stationed everywhere in Chechnya who act independently of each other. When someone disappears it is practically impossible to find him. Each unit denies responsibility and blames others. They wander around in their multi-colored military uniforms, festooned with weapons. Today Chechnya is swarming with these people. If the troops aren't returned to barracks and nothing is done to organize a unified chain of command then I can see no hope today of restoring order here.
RFE/RL:
How successful was your mission to Azerbaijan, where, on behalf of the existing Chechen authorities, you attempted to persuade the refugees to return home?
The majority of these people [refugees] left to escape the war. Prime Minister Kadyrov himself invited me and asked me to go to Baku on a mission to return the refugees. But they told me: Before you take us, take your own relatives first and we'll see how that works out. When I returned to Chechnya with my relatives I understood what they had been telling me. In Daghestan, I was detained for five-six hours, in spite of the fact that I explained that I was a deputy of the Chechen parliament and that I was carrying out a special mission and that even the president of Russia had been told about it. Their reply was: "You might be a deputy in your den in Chechnya but here you are nobody." So I will no longer risk inviting people home until the situation changes and until some sort of order is restored. Khambiev:
RFE/RL:
Have you changed your position on the possibility of Chechnya gaining independence?
Khambiev:
We are few and our territory is small. The world doesn't hear about what is happening here or, if it does, imagines that it's fairly routine stuff. And when things happen here that make a lot of noise, we know they start to talk negatively about us. It so happened that Chechnya found itself at the center of the geopolitics of world powers. So today I don't think the changes will happen that we've been dreaming about. And I think the freedom about which we speak may come as a consequence of changes in international politics.
RFE/RL:
Your former colleagues criticize you for serving the enemy. How objective do you think their criticism is?
Khambiev:
I know that outside the republic there is unfair and unnecessary criticism of me. There is one important thing: At the moment of danger, I did not run away but went to face it. It is very easy to fight without having spent a single night in the cold forest and having fled Chechnya for a soft bed and good food. It's easy to fight from over there [abroad]. But if we don't return to Chechnya and don't try to save our people, no one else will do it for us, not [exiled Russian oligarch] Boris Berezovsky or anyone else. That I know for a fact.
The Chechnya Conflict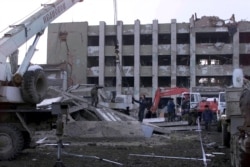 The aftermath of a December 2002 Chechen resistance attack on the main government building in Grozny (epa)


CHRONOLOGY
The
fighting in Chechnya
has raged, with short breaks, since 1994. It has brought misery, death, and destruction to the North Caucasus republic and to Russia as a whole. View an
annotated timeline
of the conflict.

ARCHIVE
RFE/RL's complete coverage of Russia's war-torn Republic of Chechnya.